I love Style! Jim loves Function!
Jim and I have finally worked out the best luggage configuration for us. Since we aren't independently wealthy, we have tried many brands of mid-range luggage over the years in every size imaginable. Here's what we have decided works for us for the last few years.
1. First of all, we stepped it up to save in the long run. One 24"-27" roller bag each made by a top notch company, fully warranted and in a color that won't show all the travel dirt you pick up along the way. We try not to go TOO big because really large bags are a pain to drag around. We check these bags.
2. One small roller bag from a medium rated luggage company that we share and take on the plane as carry-on luggage. This is where we carry our laptops, I-Pads, cameras etc., one change of clothes "just in case". You never know when you might have your flight cancelled or delayed and have to spend the night! Also, we have had our luggage lost before, and had to purchase all new clothes before boarding for a cruise (more on that in another article!)
3. I'm not a matchy matchy person, so rather than carrying a matching carry-on bag, I always try to find a stylish fun tote to carry onto the plane where I keep my nook, a backup paperback or magazine (you can't always trust your electronic readers!) , water bottle which I pick up after security and any other things I think I will need on the plane! The tote should also be big enough to fit your laptop and camera in case you have to check the small carry-on. This can happen on small regional flight and you wouldn't want to have your laptop or I-Pad out of your sight!
Our favorite higher-end luggage which we both currently use is made by
Briggs & Riley
. Their luggage, while being well made, durable and has a terrific warrantee ( every bag is guaranteed for life!), it is not ridiculously expensive. Jim and I watch for sales online and at luggage stores near us and have been able to pick up our large bags at reduced prices. We expect them to last for many more years, so we consider their cost a deal.
Jim's large expandable suitcase is called the "Baseline CX" and has an interior mechanism that allows you to expand the suitcase by pulling it up on each side. It compresses in the same manner. He can really get a lot of additional room inside his luggage when he needs it! It lists for about $500 dollars, but as I mentioned above, if you keep an eye out for sales, you can get it at a much reduced price.We bought Jim's luggage last year and we loved it so much that we bought another piece this year for me.
My 24" large zipper expandable suitcase is from the new "Transcend" line of luggage. It's extra light-weight which works great for me because lifting luggage has always been a challenge when I'm traveling alone and has spinner wheels for really efficient maneuvering. It lists for $399 dollars.
Our small carry-on bag is a mid-range Samsonite. It's from the "Seaview" line and also has spinner wheels. The luggage has a 10 year limited warrantee and lots of pockets for packing organization. It runs around $160 dollars, but we found ours at TJ-Max for only $79.99. At this price, we won't feel bad if we want to buy something different next year!
We are heading out to France soon, so we'll be able to drive-test my new Briggs & Riley luggage and of course Jim will use his again. I hope to be able to continue to give it great reviews and can't wait to get back you on my spinner bag. I've never had one of those before!!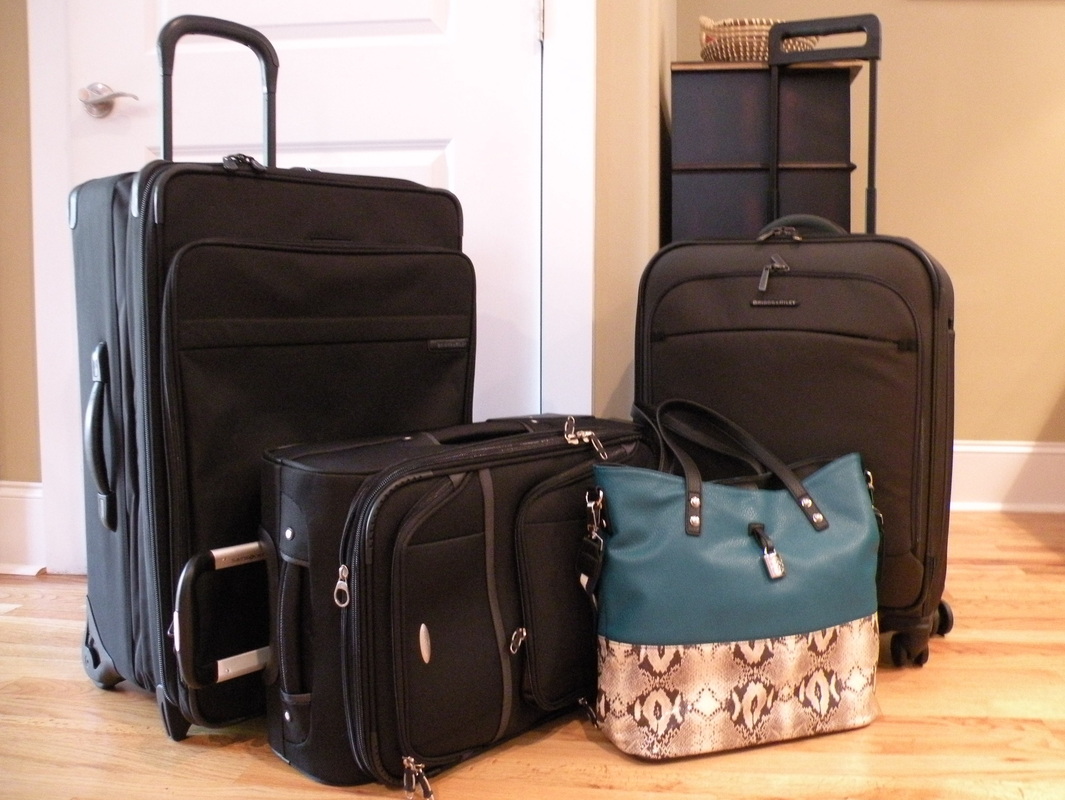 Read our review of this luggage after we used it!
OUR REVIEW
!