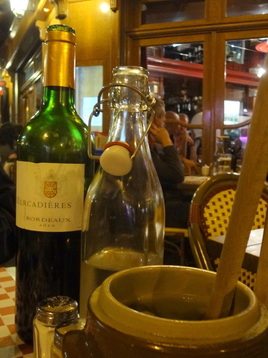 After coming back from our France trip a few days ago, I found myself dwelling on the effects of two great travel issues. Water and Bathrooms………..

These are two really important aspects of travel and I as most people have obsessed over both while traveling, and I think I have learned a few really important things about both.

First let's tackle water. You can NEVER drink enough of it! I can tell you, I LOVE to have a glass or two of wine on the long flight from the US to the Europe and even though I know that is the worst thing you can do when trying to prevent jet lag (the wine causes dehydration and headaches), I simply can't make myself turn down the opportunity. If you are stronger willed than I, then definitely turn down that beer or wine, because you will feel ten times better when you land.

Absent that will however…… be sure to take on a medium to large size bottle of water onto the plane for each person in your group and drink that water religiously during the flight. Yes, I know that you'll have to wade your way through the sleeping passenger legs to get to the airplane toilet, but you'll be rewarded for you pains in the end!

Once we have arrived and are busy visiting sites, don't let down your water diligence. My husband and I always carry two small bottles of water in my carry-all, this way if we can't find time to sit at a café, we don't get parched along the way, especially if we are traveling in warm weather. Be sure to order a bottle of no-gas water every time you stop to eat also (actually we order a small one even if we are stopping at a café for coffee or a glass of wine).

Unfortunately, this leads to the second big travel issue. The toilets!

I have had the misfortune to use some really strange toilets, the worst of which are holes in the ground that you hover over (usually found at public toilets and train stations). Avoid those toilet locations unless really desperate and pray you don't have sandals on! I recently encountered one of these at the train station in Vernazza, Italy and it was the most disgusting, filthy experience I've had in a while.

My recommendation is to use the facilities at the museums, castles, and other sites you might be visiting. They are generally cleaner, more modern and less crowded. Be sure to take advantage of those opportunities as much as possible or you might regret it!

My second choice is visiting the toilet at a café or restaurant.

Toilets at a café or restaurant happen to be a favorite for my husband since he is a more adaptable on this issue than I am. Most toilets at restaurants are co-ed. Jim has told me of the many times he has been standing using the urinal facilities only to see a woman walk behind him and enter a stall. He doesn't find this a problem, but just the idea keeps me from venturing into those particular toilets.

I have though, many times, washed my hands at the communal sink with strange men, even though the actual toilet facilities are separate. As an American, this never stops being strange to me. If co-ed is no issue for you, then definitely go for it!

One more thing…….. ALWAYS carry change with you to the toilet. In many countries, the toilets will cost you to enter. In Europe it can be a Euro or two to open the lock on the stall, and sometimes there will be a restroom attendant who will expect you to pay her. Americans are usually non-plussed about this particular requirement and often find themselves running around panicked if they have no change on them, asking merchants for change for their bills. Don't let yourself get into that situation! Hoard your change!

Be sure to keep up your diligence on both of these issues because lacking enough hydration can make your body feel off and your head splitting, and crazy toilet situations can leave you with travel memories you really could have lived without!