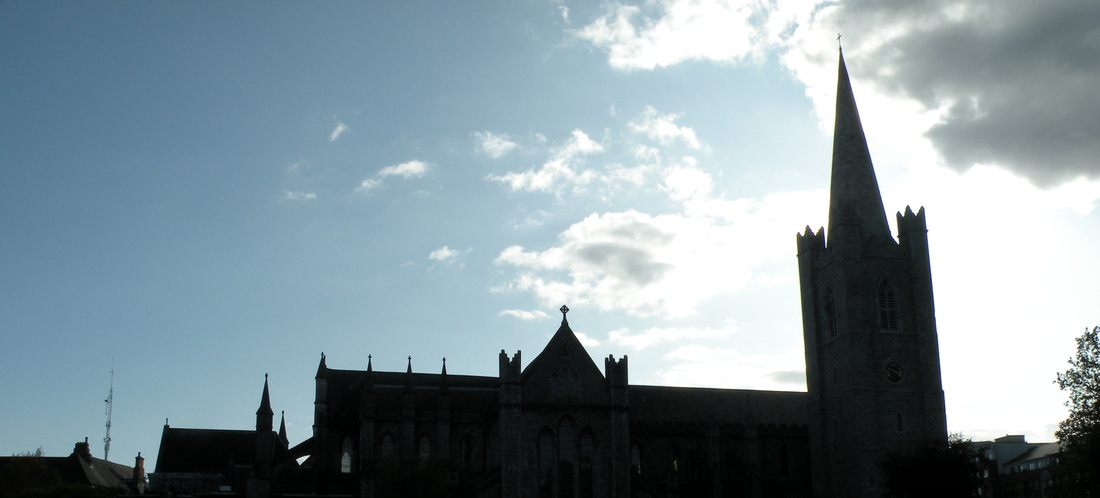 Can you visit Dublin and not make a pilgrimage to its famous St. Patrick's Cathedral? Yes you can, but I wouldn't recommend it!

First, just reading our guidebook and the internet, we became aware of the long history of importance this church has, not only in Dublin, but in all of Ireland.

The church built on this long-standing early Christian site was dedicated on March 17th in the year 1191, and stands next to what is considered the holy well where St. Patrick baptized converts when he visited Dublin in the second half of the 5th century. Two Celtic carved stones from sometime between 800 – 1100 A.D, were found near the well and are on display inside the Cathedral.

The new church was dedicated to "God, our Blessed Lady Mary and St. Patrick," and was raised to Cathedral status in 1224. The current splendid building is from 1220.

The Cathedral Website says "Saint Patrick's Cathedral has been at the heart of Dublin and Ireland's history and culture for over 800 years. For long periods it was the largest enclosed space on the island and it remains the largest Cathedral in the country. It has been visited by some of Irish history's most influential individuals from Cromwell, William of Orange and King James I, to Queen Victoria and her husband Prince Albert. It is the final resting place for one of Ireland's most famous men, Jonathan Swift, author of Gulliver's travels and Dean (head) of the Cathedral."

Ok, that hooked us. We had to see this inspiring site for ourselves!