32 hours on a train? I wasn't too sure about that idea at first, but we had a blast spending most of our time Kangaroo spotting.
We reserved 1st class railway compartments on the
Sunlander
from Brisbane to Cairns. There are a few different compartment configurations and by the time we booked our tickets, all the larger compartments were booked, so we put our name on a waiting list and went ahead and booked individual sleeping compartments. They turned out to be pretty cool because each compartment has a comfy single chair that turns into a single berth and they each have a tiny sink. They felt like strange space-travel pods so at first we kept the doors open so that we could talk back and forth across the aisle.
The travel fates were looking out for us fortunately and Jim and I were upgraded to a full sleeping compartment for two with seating for all four of us, so we hung out at our place all day and when it was finally time to turn in for the night, Bob and Bonnie went back to their single sleeping pods and Jim and had the bunk beds made up. My only suggestion would be to be sure to book the upscale dining car because the normal dining car fills up really fast and the food is pretty unremarkable. As it turned out, we brought our dinner (packed to go) back to our compartment and ate dinner from our laps. NOT OPTIMAL DINING.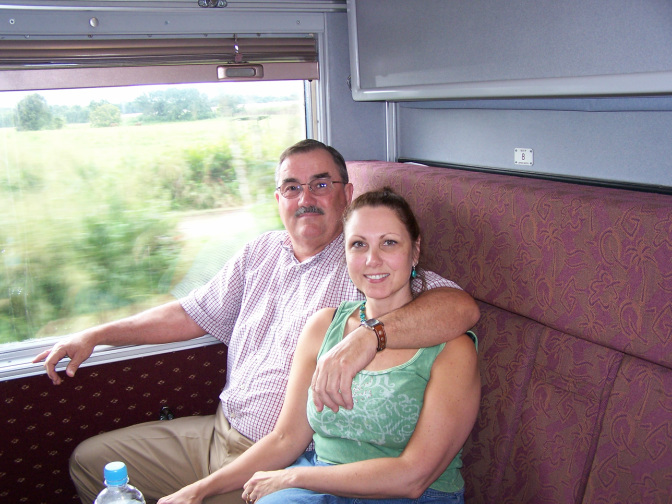 After a surprisingly comfortable night, we arrived in Cairns where we caught a taxi to Yorkey's Knob just north about 30 minutes and checked into the
Golden Sands Resort
our wonderful apartment hotel. Each couple had a two bedroom suite with full kitchen and balconies that face the interior courtyard. The pool is located in the courtyard surrounded by deep green foliage and shaded by tall palm and other trees where Kookaburras perch watching us with curiosity. I never thought I would see a Kookaburra in wild sitting just a few feet away from me. (Actually, until then I didn't know they were a bird!)
A Short walk through the palms takes you to the wide sandy beach where kite boarders surf the waves and flip and turn in the air as their kites pull them high above the waves. This beach is a favorite for kite boarding.
They did warn us not to walk too far down the beach to where the nearby river flows into the ocean as it is a hang-out for crocodiles. Needless to say, I kept my eyes peeled even though we didn't go near there. Since we were there in the winter time, we didn't have to worry so much about stinging sea creatures, but the beach was dotted with boxes on posts, containing sting antidotes.
The highlight of our time at the beach for Jim and Bob was when they realized that a couple of young women tourists were lounging naked out on a sandbar about a half mile out into the ocean. (Picture me frowning here).
Yorkey's Knob is located perfectly for anyone planning to go to the Kuranda Rainforest (a World Heritage Site) and you can't come to this area of Queensland and not visit the rainforest.
We booked tickets through
Skyrail
. This company offers a number of combinations of Cableway and Railroad experiences within the rainforest. We decided to take the Kuranda Railway up into the rainforest and to the Tjapukai Cultural Center and explore the rainforest via Skyway Cable Gondola.
The famous Kuranda Scenic Railway was built over 120 years ago and winds its way through the tropical mountain ranges between Cairns and Kuranda. The view of the blue sea off the coast and wide flat valley far below changed to deep green canyons and graceful waterfalls and then finally lush green rainforest as our train chugged up the rail hugging the side of the mountain.
When you arrive at Kuranda "The Village in the Rainforest", there are lots of shops and cafés and galleries to explore. There is also an interpretive center and museum that explains the natural history of the rainforest and explains the culture and history of the aboriginal people who populate the rainforest.

An art center features an amazing variety of authentic hand designed arts and handicrafts and you can talk with local artisans who may be working at the center when you are there. I bought a hand painted pottery piece, but Jim really went for it and bought a Didgeridoo after being told how it was made from wood hollowed out by insects and fire and then of course instructed on how to play it!

The Skyway experience takes about 1 ½ hours as you move through the rainforest canopy layers and stop at mid-stations where rangers take you walking through the forest while they explain the cultural and medicinal uses of the plants. The walks were really interesting and hanging in the rainforest canopy peering down from the treetops to the ground far below was a beautiful experience.
Finally, we took the skyway all the way back to the Caravonica Terminal where we caught a taxi back to Yorkey's Knob.


I was really excited the next day as we headed off to the Cairns to catch our catamaran ferry out to the Great Barrier Reef. I had never dreamed I would be swimming at the
Great Barrier Reef
!
We had booked our tickets through
Reef Magic Marine World
and I must say snorkeling at the Great Barrier Reef is an experience of a lifetime. Three of us decided we would snorkel, while Bonnie opted for the underwater observatory where you can see all the amazing creatures without getting wet.
Jim, Bob and I donned our on-loan wetsuits and pushed ourselves out into the rather-cold water. This barrier reef hosts one of the most colorful arrays of sea-life I have ever seen in my life. Jim held a sea-cucumber and we all marveled at the HUGE (I'm talking about 5 feet long) friendly fish called Walley that regularly waited for the tours to arrive, when the crew would give him treats. I have to admit, I was afraid to touch anything. Being in the water with strange sea creatures creeped me out a little!
After our swim, lunch and dry-out on deck in the sun, we also took a narrated ride in the submarine to check out even more of the underwater world of the reef. All in all, the experience is pretty amazing and there are a host of companies to choose from that provide a variety of barrier reef encounters. If you get to Australia you absolutely MUST go out to the Great Barrier Reef.