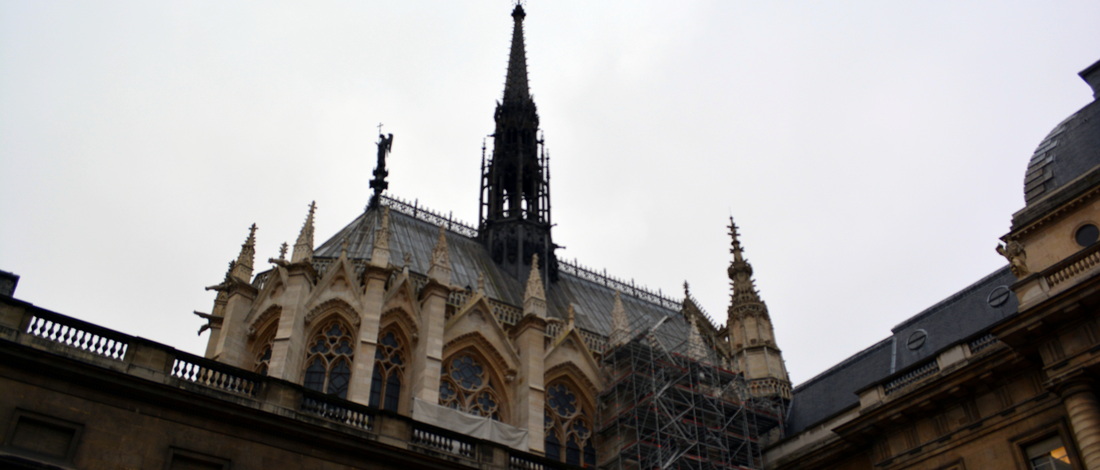 It is said that
Sainte-Chapelle
(Holy Chapel)
was called "
a gateway to heaven
" in the
Middle Ages
and this tiny chapel with its vividly painted interior, tall jewel-like stained glass windows, delicate stonework, and ethereal atmosphere is an absolutely magical space, well earning its heavenly description.
Sainte-Chapelle
is one of the earliest surviving buildings of the
Capetian
royal palace on the
Ile de la Cite in Paris.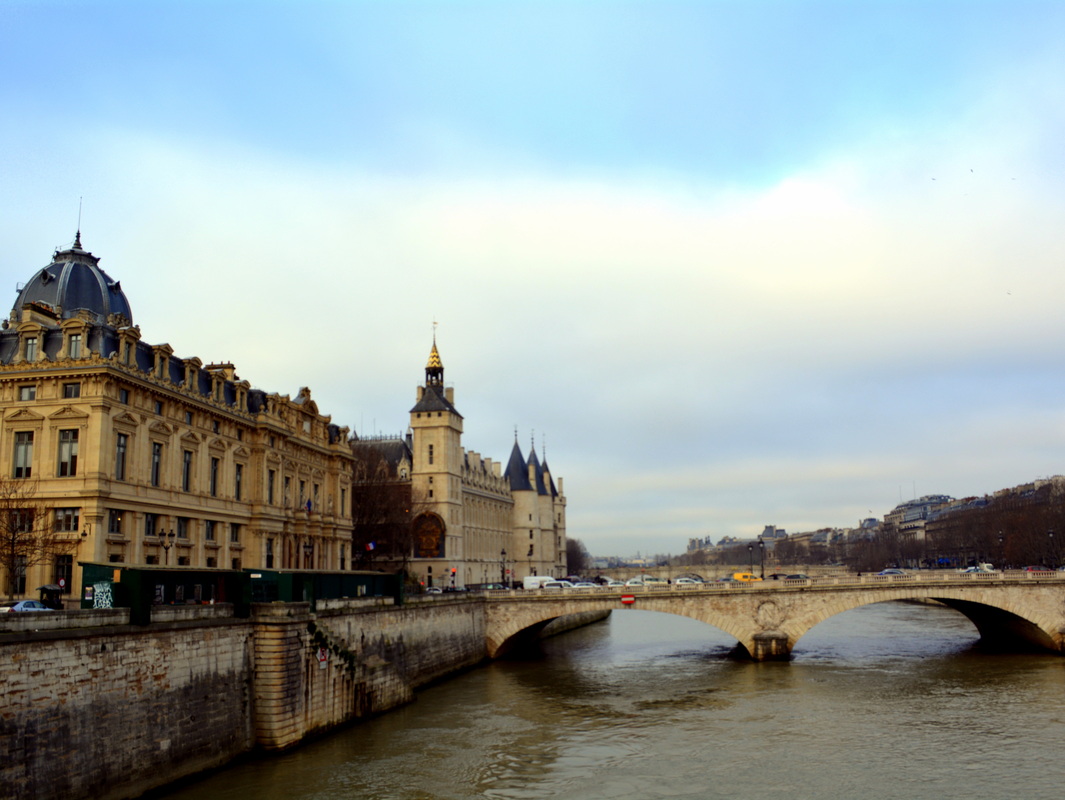 The chapel was built in 1248, by Louis IX as a shrine to what was purported to be Christ's Crown of Thorns (given to him by the Emperor of Constantinople) along with other relics the devout king had collected. His religious devotion earned him the title of Saint Louis.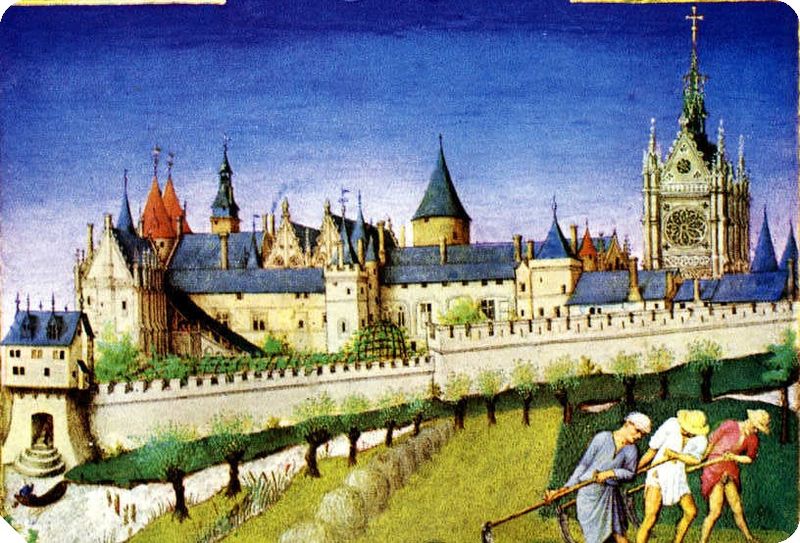 Above photo credit: "Palais de la Cite" by Très Riches Heures du Duc de Berry by the Limbourg Brothers. An illuminated manuscript, ca 1400 CE.
Licensed under Public Domain via Wikipedia


From the outside, you are struck by the height of the small chapel. Its pinnacles are decorated with a symbolized version of the Crown of Thorns. The tallest spire rises to 245 ft. (75 m) and was added in 1853 after the previous spire burned down.


The exterior shows many of the typical characteristics of Rayonnant architecture (the French Gothic period between 1240 and 1350), when more emphasis was put upon two dimensional surfaces and the repetition of decorative motifs.

The chapel has deep buttresses surmounted by the pinnacles, crocketted gables (stylized carving of curling organic design which is used to decorate the sloping edges) around the roof-line, and tall windows which are subdivided by bar tracery (the thin lacy stone patterns holding the window glass).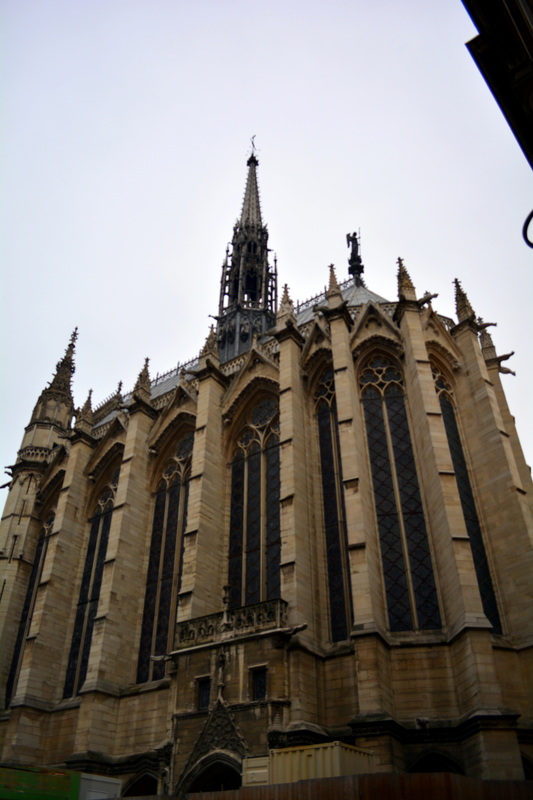 The chapel has two levels. The lower level was used for worship by servants and commoners, but even though considered a lesser space, it still inspires full of color and painted with celestial design.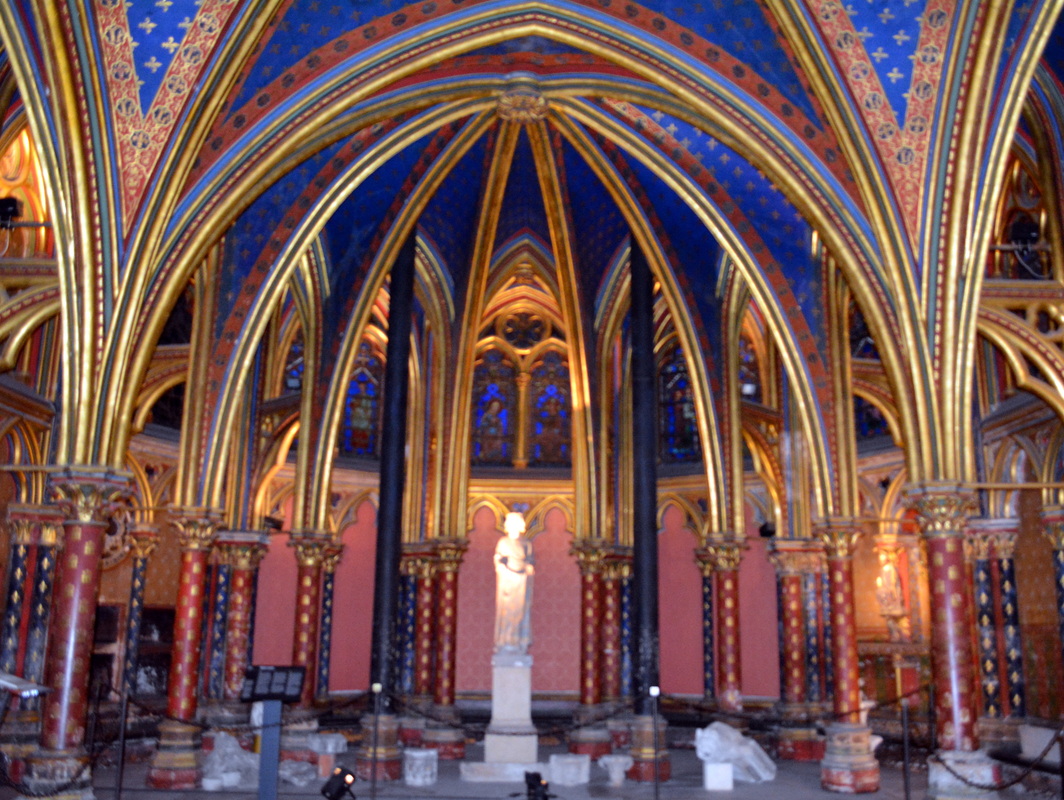 The stunning upper level with its 15 magnificent stained-glass windows was reserved for the king and the royal family. The thin columns that support the upper structure are 50 feet (15 m) tall and the roof is painted like a night sky full of bright stars, creating a chapel that seems to soar weightless to the heavens.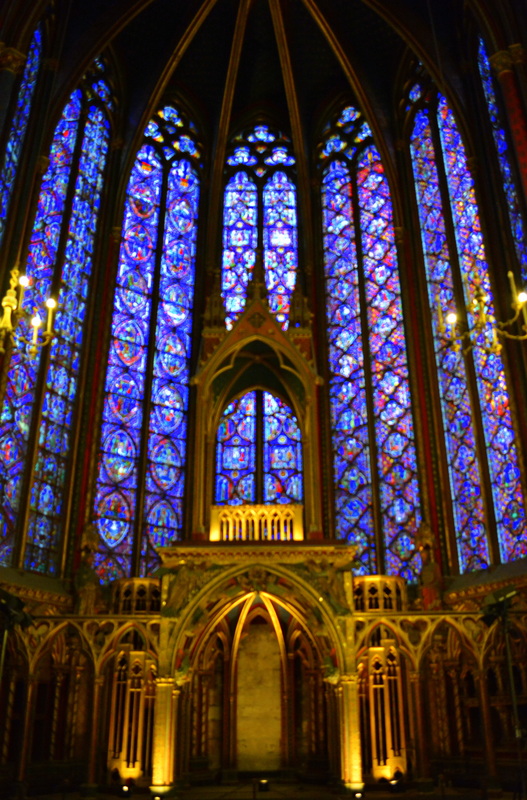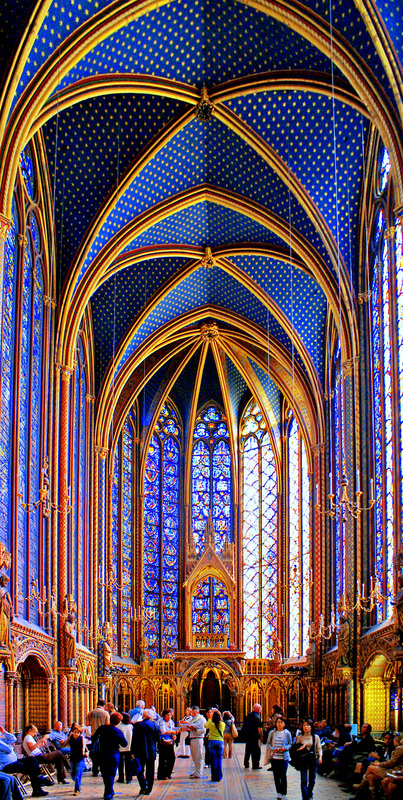 Above photo credit: "Sainte Chapelle - Upper Chapel, Paris, France" Didier B (Sam67fr) – Own work.
Licensed under CC BY-SA 2.5 via Wikimedia Commons.


The tall gem-like windows are one of the most extensive collections of 13th-century stained glass, (which amazingly remain in their original location) anywhere in the world. The Rose Window, which is a fabulous kaleidoscope of color, was a gift from Charles VIII in 1485.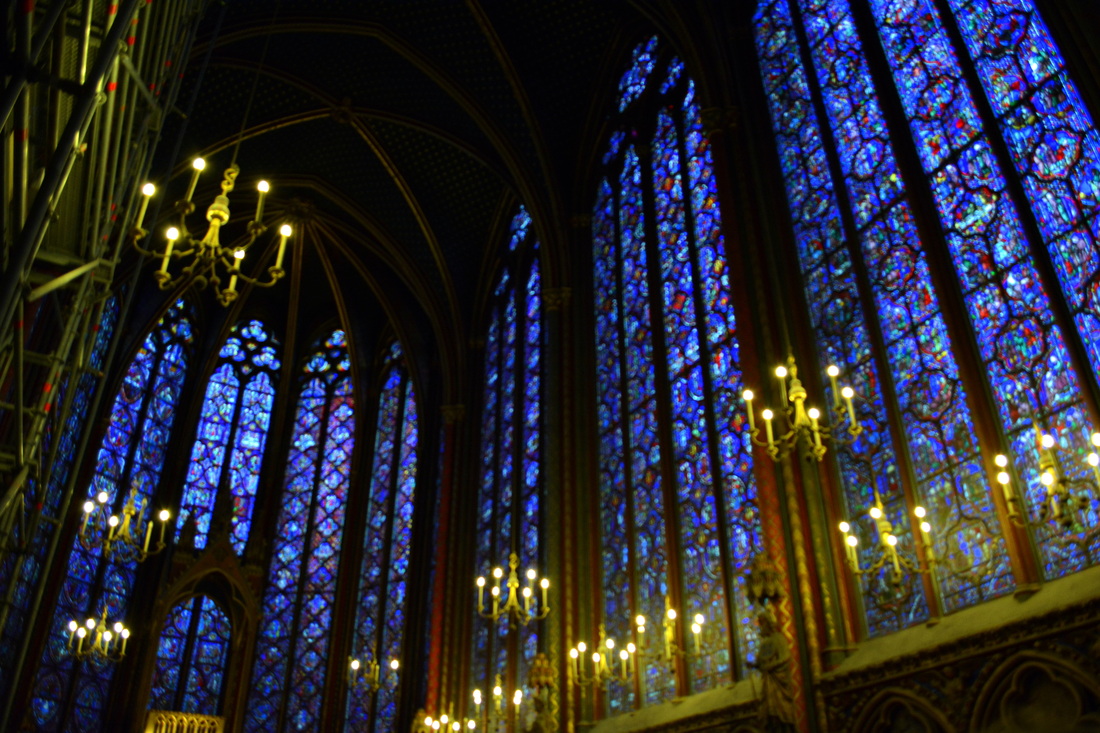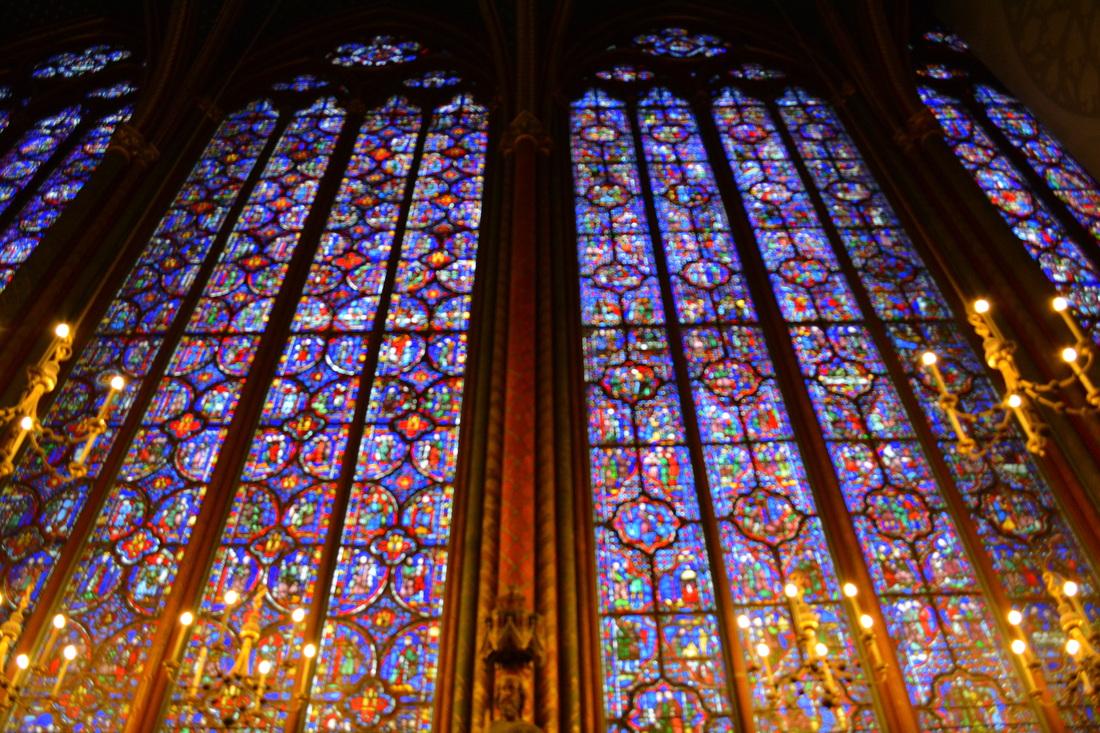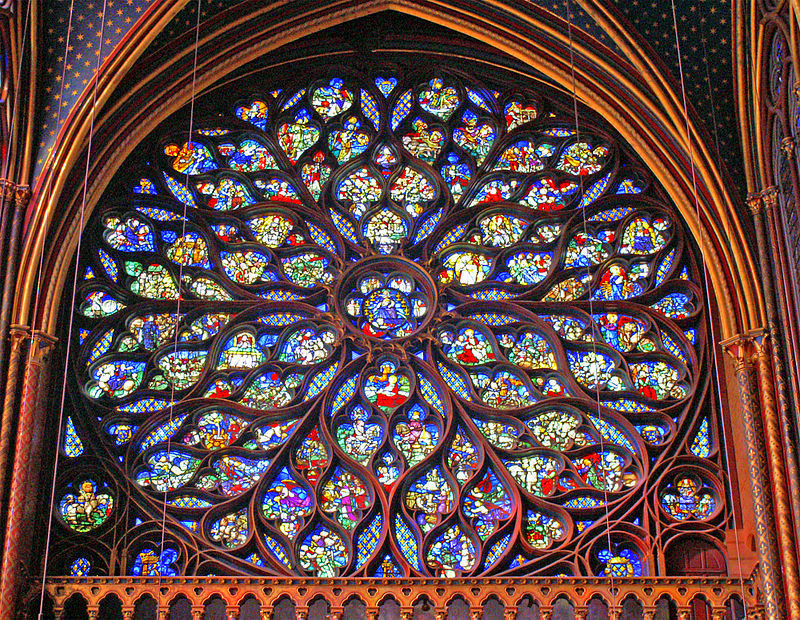 Sainte-Chapelle played an important role in the political and cultural ambitions of King Louis and his successors. The impressive chapel reinforced the king's position as the central monarch of western Christendom, and in building Sainte-Chapelle, the royal family in Paris now had a prestigious palace chapel.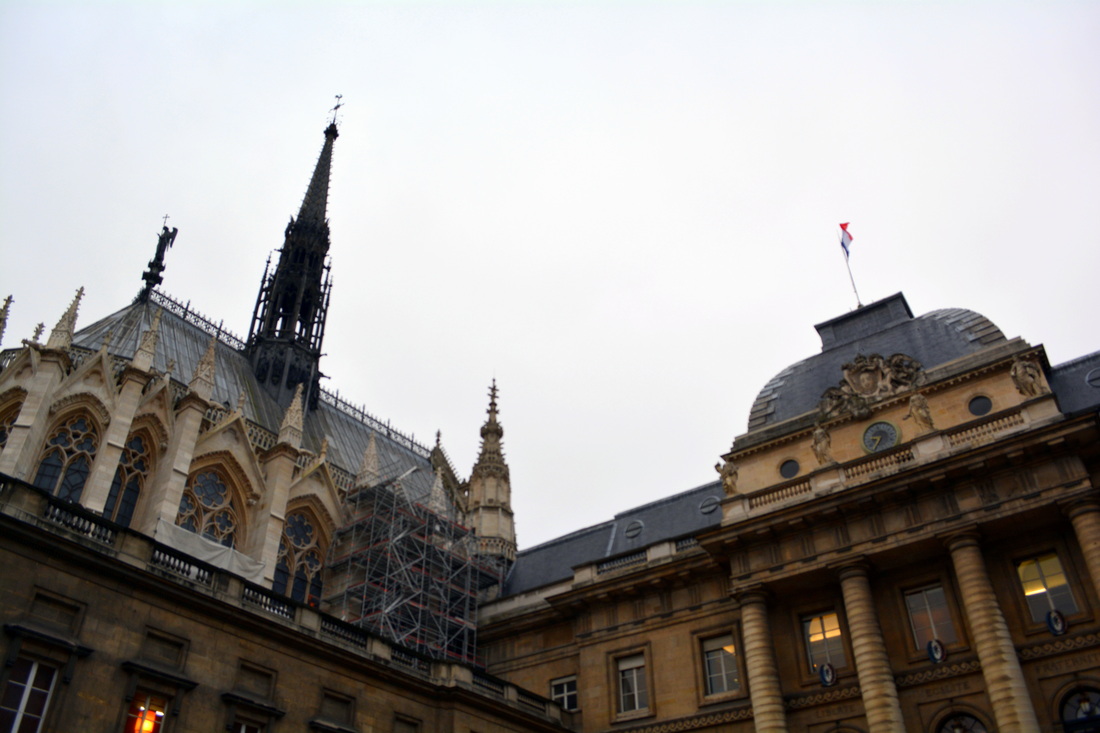 Be sure to stop by Sainte Chapelle, the tiny jewel of a chapel, when you visit Paris!