Our last day was a lazy day…… after our brunch by the sea and barrier island drive, we headed back to St. Augustine to visit one place I had really wanted to see before we left, Cathedral Basilica of St. Augustine.

Jim assures me that I have a compulsion to visit every historical chapel, church or cathedral I come across and I'm not ashamed to say he's right. They are beautiful, serene places to visit and I love the feeling of calm that envelopes you whenever you enter one of these spiritual and artistic spaces.

No difference this time either………… After the oven outside, the interior of the Cathedral was cool and peaceful where only soft whispers could be heard and a few lone worshipers sat silent in contemplation in the pews.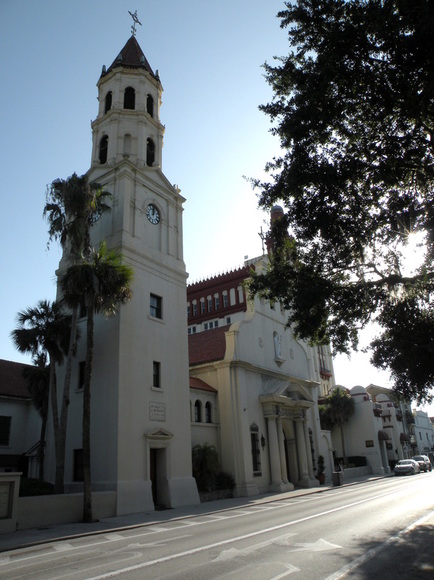 The Cathedral Basilica of St. Augustine was built over five years from 1793-1797 and was built in the Moorish style while Florida was under Spanish control. In 1887, a fire damaged the Cathedral, so when it was repaired by the great architect James Renwick, it was expanded and changed to look more like the Spanish Missions in the West, including the addition of a bell tower with the exposed bell which was a well known symbol of the Spanish mission. Classical elements and the painted beams were also added along with a transept so that it would appear more European.


The interior is charming, filled with colorful light from tall stained glass windows. The portions of the walls that are not painted a cool white are covered with religious and historical frescoes or sparkling mosaic. The high altar is flanked by tall organ pipes and gold leafed sculptures lean forward in blessing from their niches while golden angels fly above them toward a painted canopy and decorated ceiling. We wandered mute with eyes cast upward taking in the amazing architecture and holy art.