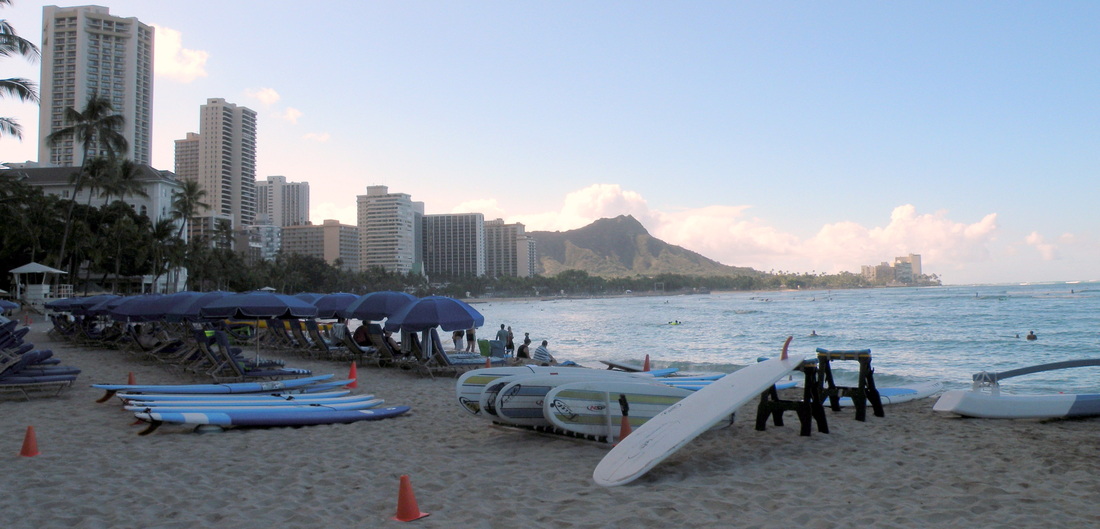 Even a history nut like me can have a moment when you just need to escape your own plan.

I really hate to put down a cruise excursion when I was really looking forward to it, but in this case, you really need to know the truth.

We had signed up for an excursion to the WWII monument the Arizona, and we were really looking forward to it, but when we exited the ship, and entered the huge terminal, we joined a line of almost 800 people. This long, long, line inched along for 45 minutes while bus after bus left for the same place and slowly, realization dawned.

How in the world can the small memorial out in the harbor, accessible only by small boats accommodate all these people?

Jim had been to the memorial before and knew that since the boats that transport people to the memorial are small, that it would take hours just to get onto the Arizona. Don't get me wrong, I LOVE history, but even I would not spend my day standing in line with other cruise passengers waiting to a glimpse of the memorial.

Now this is important……. Our recommendation is, if you want to visit the memorial, get off the ship at the earliest time allowed, catch a taxi and go to the monument on your own. It will be well worth the effort and will actually save you money and will also save you from wasting your day! After your visit, head into Honolulu and enjoy Waikiki beach and shopping.

So……. Jim and I looked at each other and both of us knew instantly that after waiting 45 minutes already, we were going to ditch the line, catch a taxi and head into Honolulu to explore Waikiki beach and the shops. We felt such guilty freedom as we sped in our taxi toward the city, but big smiles of relief were on our faces.


Waikiki is wonderful. The beach and its tall palms, warm blue water and view of Diamond Head are beautiful and it's really fun to watch people learning to paddle board, surf, and canoe on outriggers. The long outriggers particularly give the scene a Hawaiian feel.
After a walk on the beach, we decided to check out the kiosks and shops at the International Market Place, where you can find the typical tourist souvenirs, but where we also found a gentleman carving Tikis out of local Hawaiian wood. They were beautifully carved and it was fun to be able to purchase work from a local artisan.
While the marketplace is filled with items that won't cost you a fortune, if you want to shop upscale, just walk across the street to the posh hotels like the
Moana Surfrider Hotel
or the
Outrigger Hotel
. The shops are filled with high-end art, and beautiful but expensive jewelry and clothing. I must admit, it was tempting to step into the shops, but Jim was already headed toward
Duke's Canoe Club
which is located in the Outrigger Hotel and opens out onto the beach.
Duke's is decorated in true tiki-bar style, transporting you to island fantasy with soft Hawaiian tunes and thatched roof bar overlooking the beach. The ice cold Mai-Tais come in glass tiki-shaped goblets with huge chunks of pineapple and a bright umbrella. Be careful though, they definitely have a kick! Jim opted for a tasting of Hawaiian beers. Duke's has an extensive menu of Hawaiian inspired food and loved standards like juicy Angus Beef Cheddar Burgers, which was Jim's choice. I opted for the most delicious Mahi Mahi Fish Tacos with Cajun dressing and pico de gallo. I have to admit, we spent at least a couple hours munching, sipping and watching the action on beach while the breeze cooled us.

The restaurant is named after one of Hawaii's most important citizens, Duke Paoa Kahanamoku, born in Honolulu in 1890 and grew up on Waikiki beach, swimming, surfing and canoeing. Representing the U.S., during three separate Olympic Games, he won four Gold Medals and one Silver Medal in swimming and went on to introduce surfing to New Zealand and Australia. He acted in 28 movies and made surfing popular in California. He is remembered not just for remarkable speed as a swimmer, but for his grace in the water, his good humor, and his sportsmanship.
It's fun to think you are hanging out on the same beach Duke enjoyed!