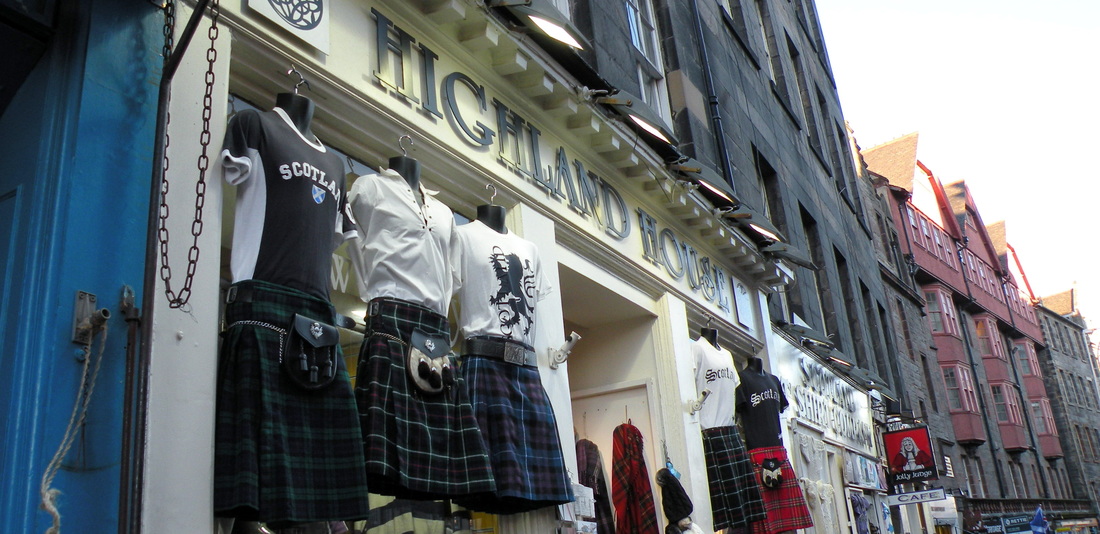 As we get ready to close out our Scotland series, here are some of our observations on shopping in Edinburgh.

You definitely can have a blast enjoying the fabulous upscale and high fashion shopping in the "New Town" section of Edinburgh where all the department stores and expensive boutiques are located.


But, we loved wandering into all the shops along the Royal Mile, the narrow closes and the winding streets of the "Old Town". It became a quest to find souvenirs that were truly made in Scotland and not India or China, but we were up for the challenge!


One stop everyone should make is into one of the "Kilt-Makers" shops. Be sure to go into one of the small authentic shops, not a "tourist" shop.
We stopped by
The Celtic Craft Center
where the owner of the tiny shop spent quite some time talking with Jim about kilts and showed us how the pleats were made and even looked up Jim's obscure ancestral tartan pattern for us. It can be quite expensive to order a full kilt outfit (I never knew there were so many elements!) so Jim and I took a flyer with his contact information with a view to ordering some time later.
My personal favorite was our stop at the
Tartan Weaving Mill and Exhibition
on the Royal Mile. The structure was constructed originally as the Castlehill Resevoir in 1849 to supply water to the New Town. Now it houses a very interesting tourist attraction.
The huge space is divided into several floors lining the huge warehouse space, with a large open area in the center where you can watch weavers create their complex tartan patterns on huge weaving looms.


Life-size vignettes are posed doing different jobs related to weaving.


Piles of tartan line the room and are stacked on tables. You really get a sense of the hundreds of patterns that have designed and evolved throughout Scottish history. Needless to say, the shopping is a lot of fun! Their goods range from expensive true Scottish woven clothing, to tourist nick-knacks, so there is something for everyone. I found some beautiful jewelry pieces, locally made from fossilized heather, so I picked up a variety as gifts.




Naturally, we also had to stop by several Whisky Shops to find a bottle of famous Scotch Whisky.

Shopping is definitely part of the Scottish experience so be sure to build in time for that age-old pastime, souvenir hunting!