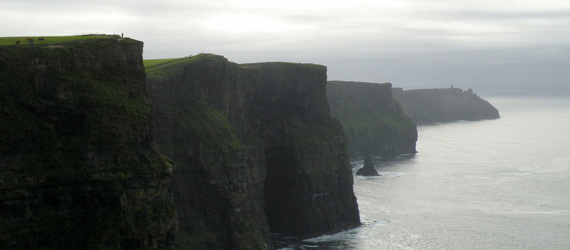 I know….. a zillion people have posted photos of the Cliff of Moher before me, but I simply had to add my experience to this procession!

Being a typical American (we generally follow rules regarding signs due to our litigious society!) we walked out to the area near the edge of the cliffs and stopped at the sign that said "Please do NOT go beyond this point" and watched as the rest of the world visitors tramped right by us and up to edge, peering over to the rocks and sea hundreds of feet below. We watched in dismay that everyone seemed to be ignoring the sign!

I had to get some photos of this because watching these daring folks from our safe perch at the tourist wall was going to be the only way we would get a vicarious thrill from being at the edge of the Cliffs of Moher.

Maybe someday I'll go back and lay flat on my belly and hang my head over the side to what they saw!