Hmmmm….... St.Augustine, Florida in the Summer………


One of the rules any good traveler should follow is "don't squander a free hotel coupon!" If you can possibly help it!
There are a few loyalty programs that Jim and I really like and use. One of those is the
Marriott
rewards program. We try to stay at Marriott Hotels whenever we travel for business and we have a Marriott Rewards credit card so we can get points on our purchases. We had three free-night coupons at any mid range Marriott property, but had to use them by the end of August when they expired. The problem we faced was where would we want to spend three days in August? Not our favorite month to travel anywhere!
We decided to brave the tropical heat of Florida, hoping that being near the Atlantic Ocean would provide some relief with the occasional trade winds and sea breezes. The Marriott we picked was a
Courtyard
located about 6 miles from the old town of St. Augustine. When we arrived, the check in desk was manned by friendly helpful staff and we were soon unexpectedly upgraded to a suite! Another reason that loyalty programs can really be a benefit to a traveler!
The suite was modern and clean and comfortable (my personal criteria for a room), with a sink, microwave and fridge inset into a lovely granite topped bar. As with every Marriott we have ever stayed in, the bed was a top-notch perfect softness bed covered with a pristine fluffy duvet. There was a small but invitingly sparkling blue pool on the patio surrounded by lounge chairs and umbrella topped tables.

St. Augustine is a very old city. In fact it is the oldest European established city in the United States, founded in 1565 by Spanish explorer and Admiral Pedro Menendez de Aviles. The area has a rich history of explorers, pirates, colonists and soldiers, but we weren't ready to plunge into all that history yet. After an eight hour drive, that first afternoon, we just wanted to wander, find a cool drink and a snack before napping until dinner, so we hopped back in our car and drove to the old town of St. Augustine to do just that.


St. Augustine is full of wonderful restaurants and bars, but that afternoon, the breezes were non-existent and the humidity and heat were oppressive, so we ducked into the air-conditioned interior of
Harry's
, a New Orleans Style Restaurant. It had a tiny bar so we squeezed in and checked out the menu as we sipped our drinks. It didn't take us long at all to decide to come back for dinner later and we left dreaming of Etouffee and Jambalaya.
We took in the sun sparkling on Matanzas Bay, the yachts moored in the bay, the Spanish moss dripping down from the huge old oak trees and the long low ramparts of the old Spanish Fort and then turned up King Street where the long green "Plaza de la Constitucion" led us among palm trees, past the old market, a gazebo and strategically placed canons to where the fanciful Spanish Colonial meets Moorish Palace style at the hotel called the
Casa Monica
.
The
Casa Monica
is also a Marriott property, though unfortunately our coupons were not good for that particular level of Marriott. It was a stunning hotel. As we walked into the lobby, I was awed by flamboyant red and gold tiles, a splashing bronze fountain, carved and painted ceiling beams which connected ornate arches, and the green fronds of tropical plants that fanned out into the spaces. It was like walking into a courtyard of a palace in Andalusia Spain.
We lingered in the lovely bar cooling off with another beverage until we finally were ready to push off and out to further exploration. We headed toward St. George Street which is a pedestrian only street lined with historic buildings, shops and restaurants. The sun quickly roasted away all the coolness we had collected at the Casa Monica.
A timbered balcony hanging out from an old stone building caught our eye and the colorful flags rippling above us convinced us that we would find those missing breezes if we sat up there by those flags, so we entered the dark cool establishment. The view from the long narrow balcony of the
Sangrias Wine and Tapas Bar
was amazing. We could peek down into formal palm ringed gardens or secret high walled courtyards, and watched the cartoon-like sightseeing mini-trains snake through the lanes below.
The Tapas we ordered were superb. Jim ordered the Cervice and I had ordered a combination of dips with chunks of French bread. And yes…… we found the cool breezes we been looking for! Best of all, we were serenaded by some terrific music provided by the talented performer Colton Mckenna. I'm not sure how often he plays there, but it's worth checking Sangria's Facebook page or his website
coltonmckenna.com
for his schedule.
After recharging with Tapas at Sangria's, we were ready for a quick swim and finally a nap at the hotel until dinner. I couldn't wait to float around on my back in that cool blue water watching the clouds drift across the sky!
Later that evening we caught a taxi out for dinner at Harry's. We sat outside in the courtyard as the sun sank down into dusk and the fairy lights in the trees began to glow. We listened to guitar music and ate huge piles of spicy Jambalaya which was full of shrimp, chicken and Andouilla sausage. We washed the heat of the Jambalaya down with icy cold sauvignon blanc and cool lager.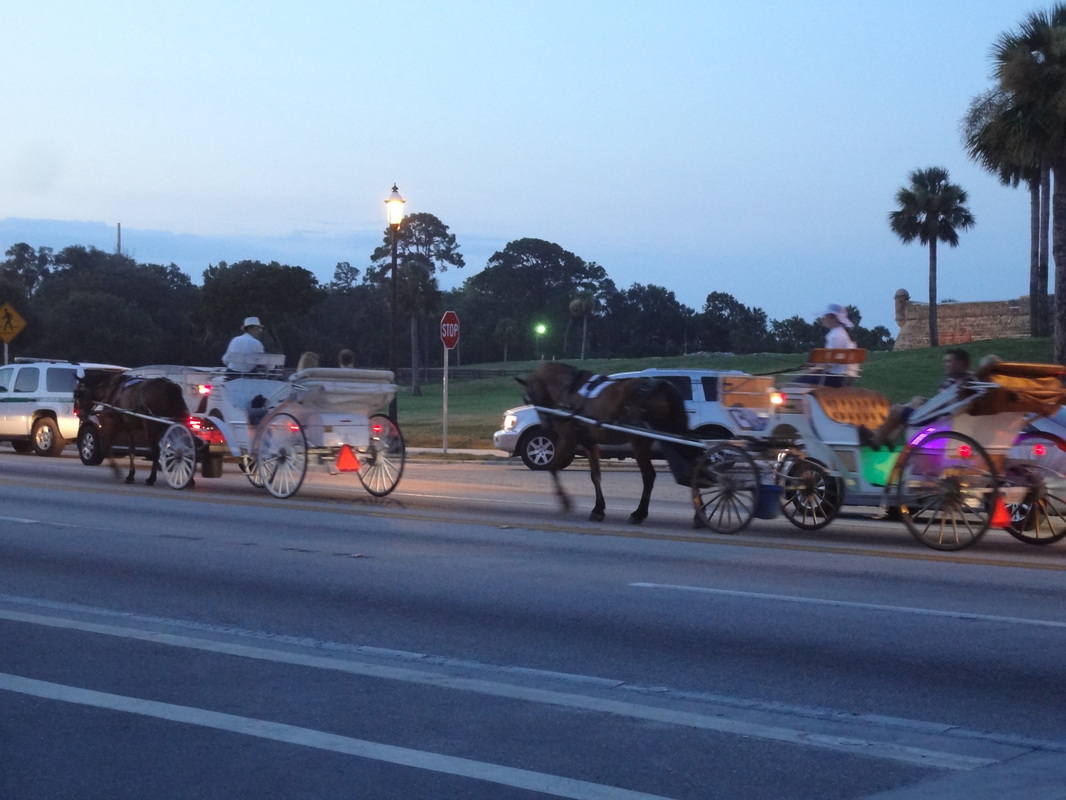 More full than we could have imagined possible, we decided to walk off our dinner and stepped out into the evening where a parade of carriages pulled by trotting horses vied with the cars touring down the seaside boulevard. The evening air was heavy and humid with a faint breeze from the bay occasionally drifting by and we could hear music and the hum of conversation drifting out from restaurant and bar patios and courtyards. Groups on "Ghost Tours" walked in the shadows of the old Spanish fort out on the point, flashlights and lanterns dancing as they followed their ghostly guide. When we finally caught our taxi home, the yachts in Matanzas Bay floated quietly on the black water; here and there, a glowing mast light reflected in the dark ripples.