Cruising With Elderly Parents – How to have a fun vacation while accommodating limited mobility!
When we decided to book a cruise from Los Angeles, California to the Hawaiian Islands and back, our goal was to find a way to spend time traveling with my parents who couldn't stand up to the rigors of long flights, busy airports, dragging luggage from hotel to hotel etc. that are often the discomforts of travel.
Since they already lived in Los Angeles, California, the perfect solution was to board the cruise ship
"Star Princess"
, a ship of the Princess Cruise Line, at the Port of Los Angeles, unpack one time and slowly cruise halfway across the Pacific Ocean to the Hawaiian Islands, while enjoying the many shipboard amenities.
For those who can't walk a long way, the distances on a cruise ship are easily maneuvered and our ship even accommodated scooters which we saw zipping around with no problems. There were also plenty of elevators available to get from deck to deck.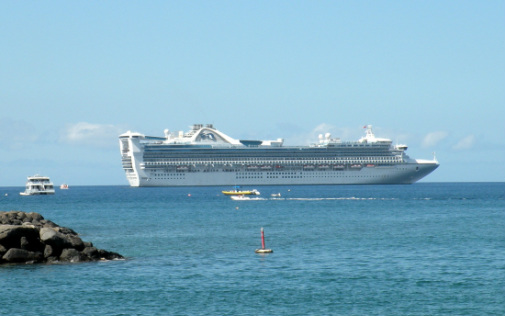 After flying in a day early to avoid any flight snafus (which we strongly advise everyone to do if you don't want to accidently miss your cruise!) we stayed overnight at the Marriott Residence Inn Long Beach Downtown. We highly recommend this hotel
(click here to check out Jim's review
) which was within walking distance of the charming harbor village and marina. We decided to walk over for a late afternoon and evening at Shoreline Village, Long Beach.
This area of Long Beach is also home of the
Aquarium of the Pacific, the Queen Mary, the USS IOWA
and many more attractions. I have been to both the Aquarium and the Queen Mary and they are both amazing places to visit and are packed with lots of science, history and fun. The Iowa is top of my list for my next visit to LA! If you have time, come a few days early and enjoy the
many tourist attractions
in the area.
Since we were limited to one afternoon, we strolled among the many unique artistic shops and enticing restaurants located around the harbor until we finally decided to sit out on the deck of the
Yard House Restaurant
where you can enjoy the breeze off the ocean and admire the beautiful yachts in the marina below while eating delicious California cuisine. The evening relaxed us and eased us into vacation mode. The next morning, well rested, we caught a taxi to the ship for our embarkation.
We always book a room with a balcony. It's worth the extra money to have your own exclusive outdoor space with table, chairs and even lounge chairs where you can wake in the morning and walk out to a view of each new port you visit and where you can stand and watch as the ship slowly departs back out into the ocean in the evening to cruise to the next port on your itinerary.

We also like to book a mini-suite and all the large cruise lines have them. This provides a small seating area with couch, coffee table and chairs where you can spread out or entertain others. The mini-suite on our Hawaii cruise actually had a separate TV in the sitting room, so Jim and I didn't have to fight over which channel we would watch during those times when we just had to sit or nap and relax for an hour or two. The mini-suite also had a full bath in the nice sized bathroom. The large closet had lots of hanging room and there were many shelves and drawers available in which to stow our things along with a secure safe.

You will really enjoy entering a room this large and comfortable after your embarkation, because getting onto the ship can be a long process starting with checking in and receiving your cruise card and then followed by lots of sitting around the huge port auditorium waiting for your number to be called so you can board the ship.
We made our arrival even more special for my parents and ourselves by planning ahead and pre-ordering room service for the hors d'oeuvres and champagne with which we toasted our upcoming adventure as the four of us stood on our balcony and watched our ship pull out of the Port of Los Angeles toward the vast blue Pacific Ocean.

Stay tuned for more stories about our cruise to the Islands of Hawaii! Coming up…… Exploring our home-sweet-ship! and Some things we like to pre-order when booking a Cruise.