I have to admit, when Jim and his brother decided that we should travel to Australia, I wasn't overly excited. It had never been high on my list of places to visit. It didn't have castles or grand museums or tall cathedrals or ancient temples so to my mind, it didn't sound very interesting at all. Thank goodness I was really, really, REALLY wrong! Australia turned out to be one of the most interesting and exciting places I have ever visited.

Jim was in charge of airline tickets, and since we are loyal Delta patrons, we booked our flight through the internet with a Delta partner, Korean Airlines and used frequent flyer miles we accumulated not only from previous flights, but from our Delta American Express Card. We buy EVERYTHING with it to rack up those points!

As you can probably figure, when you are flying halfway across the world; this is one of those excruciatingly long plane flights! We flew from Atlanta to Korea non-stop, refueled and flew the rest of the way to Australia.

A flight this long is worth using every frequent flyer point you own in order to upgrade to business (or even better first!) class or at least comfort seats, especially if you are not a 20-something with young limbs and backs that won't cramp up about half way through the flight.

The strategy Jim and I use every time we fly is to reserve one of three positions in the plane.

1. Bulk-head – best because you can stretch out your legs. And often easy to stand up and stretch.

2. Emergency Exit Row – also good leg-room

3. Odd Placed Seats - Depending upon the plane, there are these great comfort seats where the aisle seat (which is the third in the row) doesn't have any seat in front of it because the row in front has only two seats. Jim always likes to take that seat. Unfortunately, that means that I have to sit in the middle. That's why it's third choice of these options!

Now here is the key to getting a good seat…….. Keep checking on-line or call to confirm that your seats have not changed over the weeks/months before your departure and keep checking regularly. The reason this is important, is that airline notoriously change plane models and will knock you out of your seat assignments to some other random seat! If you don't keep on top of this, you will be in store for an unpleasant surprise when you finally board for your wonderful vacation.

We absolutely loved Korean Airlines. The service was the best we have ever received starting from the lovely bow at the front of your cabin that your airline attendant gives just before takeoff. If you are feeling adventurous you can order a traditional Korean meal served in a bamboo bowl rather than the usual airline food! I have to admit, the smell in the plane was pretty pungent during dinner.


Fortunately after our long flight, we actually arrived strangely refreshed and ready to go. Maybe it had something to do with flying east to west instead of our usual west to east to Europe where we drag ourselves around jet-lagged for a day at least.

Talk about amazing coincidences though…….. There we were picking up our bags and checking out the monitors to see what time my in-laws would be arriving from Los Angeles, and before my eyes appeared Bob and his wife who had incredibly landed at exactly the same time as we did even though they flew a different airline, from a different direction and distance than we had flown.

I will never figure out how that happened, but we were really thankful that the travel fates conspired in our favor for a change! We shared a taxi ride to our hotel, where we were able to check in and finally see whether the myth was true about toilets swirling backwards when flushed Down-Under! (I won't be telling you the answer to that. You just have to find out yourself!)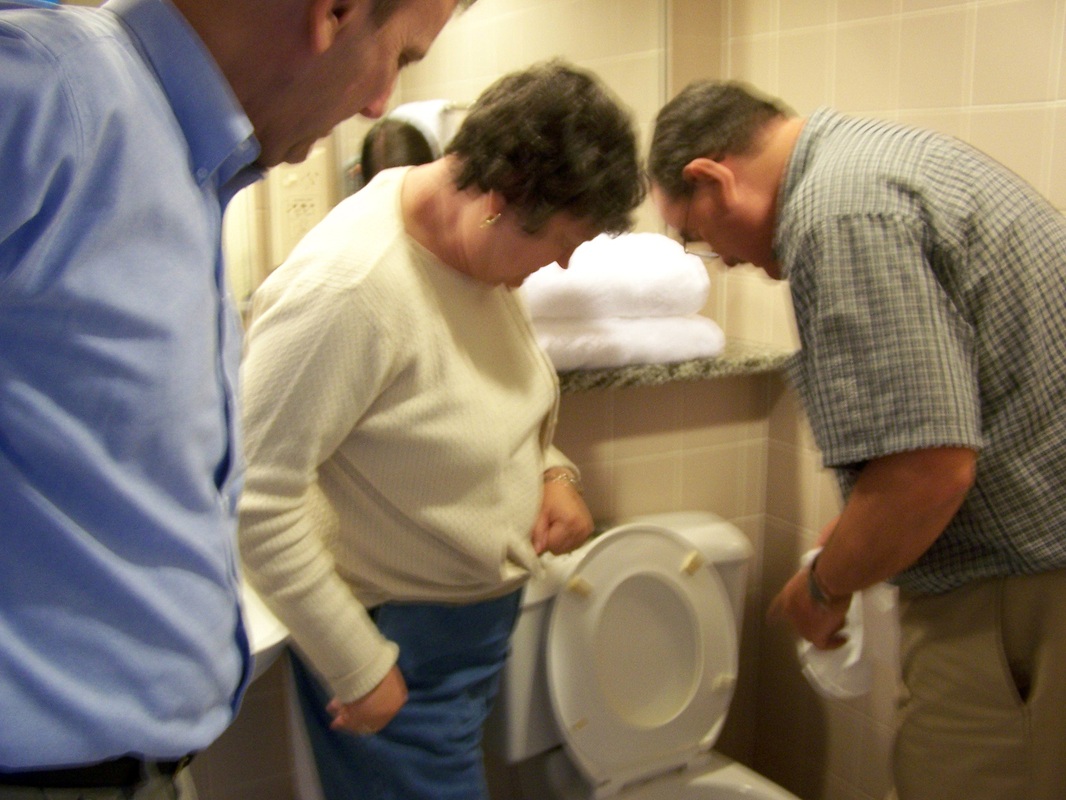 There are a number of great hotels in Sydney, but since we were only staying one full day, before heading by plane to Brisbane (we would be coming back for a longer stay later), we chose a hotel near the airport and took a taxi into the Sydney Harbor.
This harbor is the same beautiful cove that Captain Cook admired as he sailed past in 1770 and at which eighteen years later, a fleet of British ships carrying convicts and government officials landed in 1788, founding the settlement of Sydney.
We decided to start our journey at "The Rocks" with a look back into Sydney's colonial history in the oldest part of town. The Rocks is where the transported convicts and officers of the First Fleet established the furthest outpost of the British Empire. The area is named for the rocky outcrops that dominated the area.
In colonial times, "The Rocks" was a raucous waterfront neighborhood inhabited by seamen, traders, prostitutes and criminals and the narrow cobbled streets were full of pubs, brothels and lodging-houses, like the
Lord Nelson Hotel
which officially opened in 1840. Before then, it had been the proprietor's home.
Of course, Jim, like a homing pigeon wanted to head into this oldest licensed pub and hotel in Sydney for an authentic "Australian" beer which actually turned out to be a bitter, "Victoria Bitter". We fell in love with this brew and have pined and longed for it ever since. (It's is impossible to find in the U.S. and hard to find Europe). We always try to find it when we travel!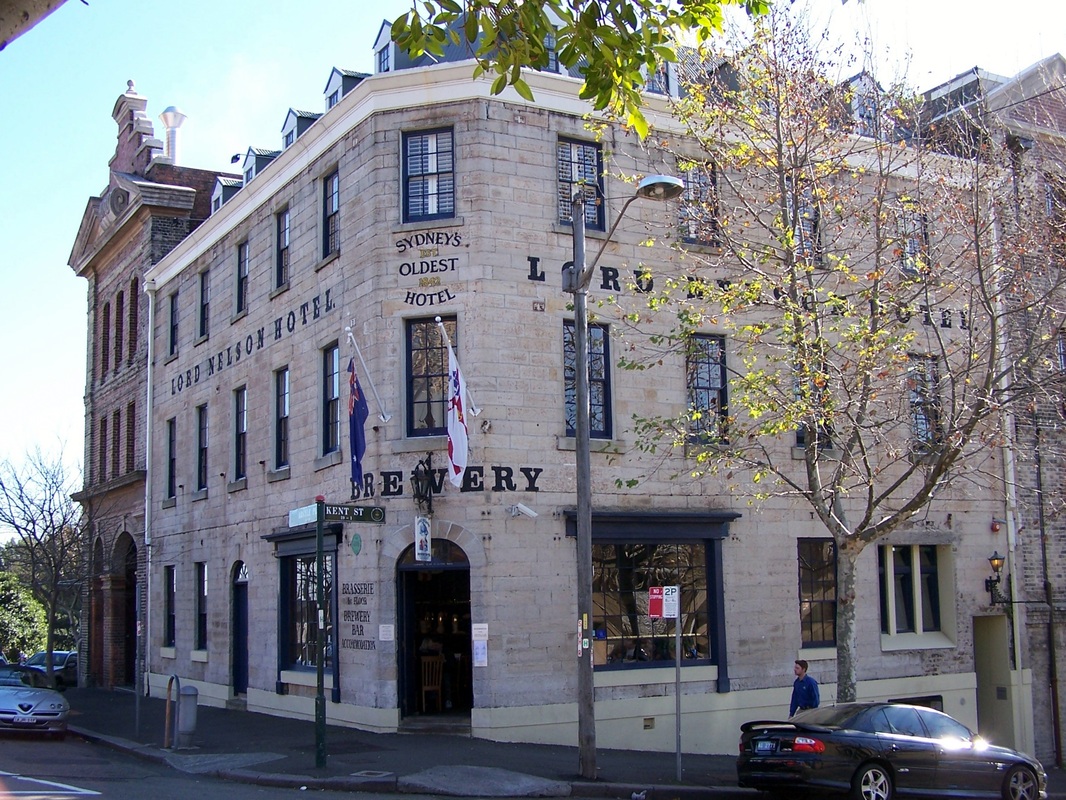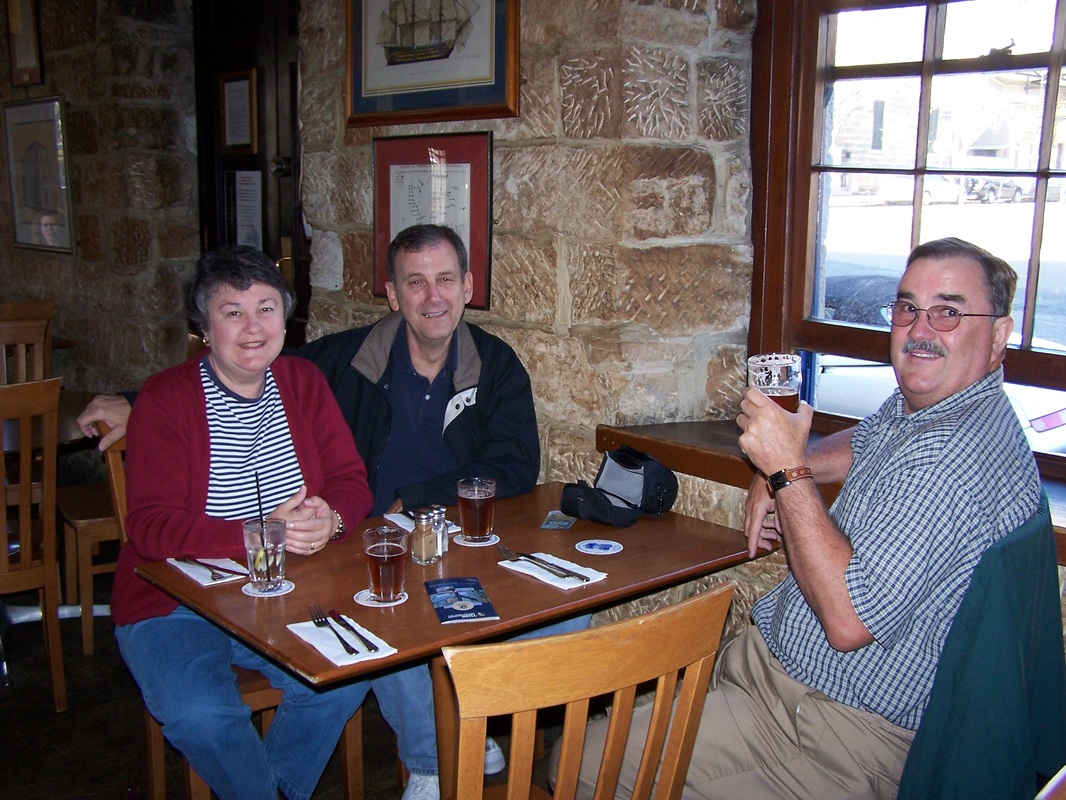 Needless to say, we spent the rest of the afternoon wandering through the converted warehouses and colonial buildings which house shops and galleries where you can find some the best original Australian art and handicrafts in the world, though they can be very expensive. I personally drooled over the sparkling Opals, some of which were set in unique, artistic, hand-made settings.

Don't worry; there are also plenty of touristy souvenir shops where you can find merchandize that won't break your pocketbook!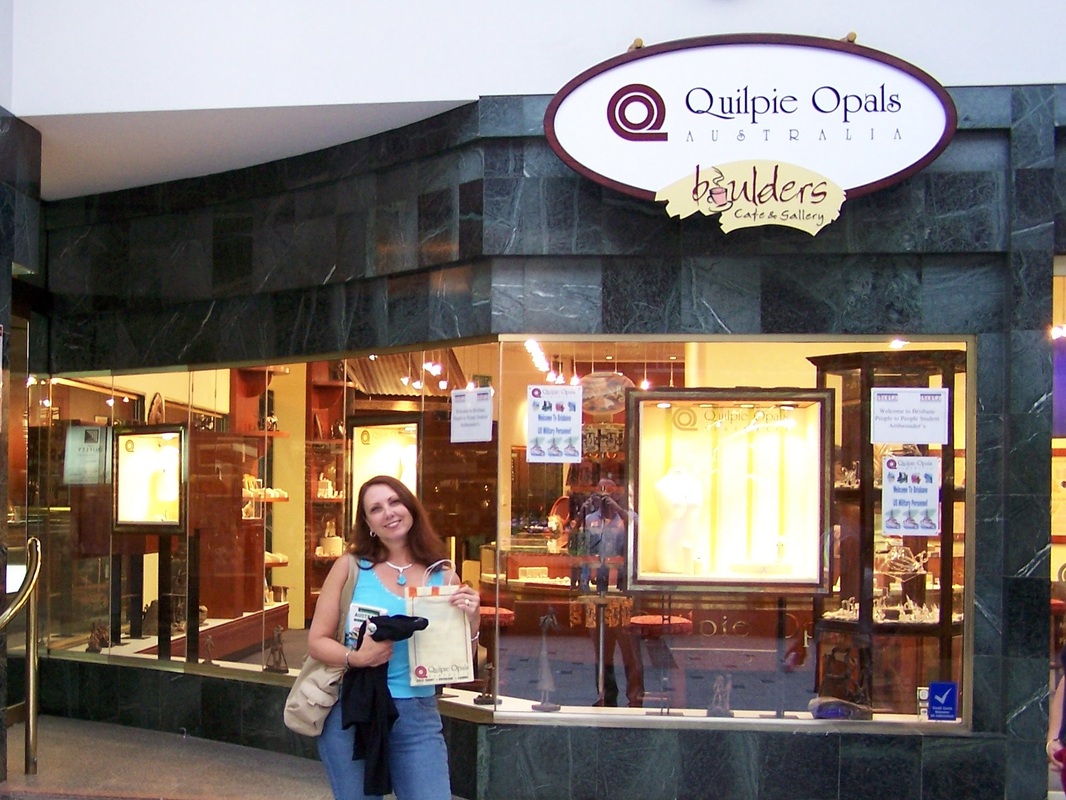 Seemingly floating over the harbor with its gleaming sail-like roofs bellowing outward and its magnificent harbor-side location, you can't help but be drawn to the view of the Sydney Opera House. We spent quite some time strolling around the outdoor terraces savoring the architecture and watching the sailboats and yachts cutting smoothly through the sparkling water.

Be sure to check out the ceramic "tiles" that cover the "sails". It really makes you appreciate how much design thought was invested into what was considered revolutionary at the time of its construction and was given the nickname "The Hunchback of Bennelong Point" by locals who were not impressed. Fortunately it has earned appreciation over the years and is now a landmark you can't miss out on.

The Opera House would be our last glimpse of Sydney Harbor for the next three weeks as we would be heading off up the coast to adventures in Brisbane the next morning.