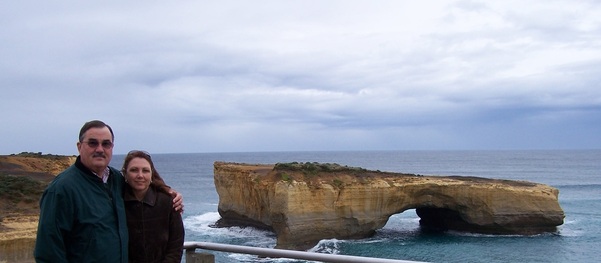 The
Great Ocean Road
is truly one of the most beautiful drives in the world and we spent the day leisurely driving along it stopping whenever the beauty called to us even though it was chilly and we had to fight the brisk wind to walk out to toward the sea.
Fortunately this cold harsh wind swept the sky to crystalline clearness so you could see every crevice of the rocky cliffs. To our disbelief but utter happiness, before our eyes, out on the horizon, the graceful Southern Right Whales emerged from the sea arching high into the air on their migration trek. It was one of those moments when we looked at each other and couldn't believe our luck at being right there staring out to sea just as they passed.
Some of most interesting rock formations are located at
Port Campbell National Park
and we spent some time admiring the dramatic windswept geomorphology. Limestone pillars called the "Twelve Apostles" rise out of the Southern Ocean like craggy sentinels posting watch along the steep cliffs. Other formations are given names that truly depict their shapes, like the "London Bridge", though its span has separated from the mainland and stand a bridge to nowhere out in the sea.
Be sure to check out the fascinating history of the many shipwrecks that took place along this treacherous coast. The Shipwreck Coast extends from Moonlight Head to Port Fairy, a little over 80 miles (130 kilometers) further west. The temptation for ships to cut about 750 miles (1200 kilometers) from their trip from England to Sydney by negotiating the treacherous and unpredictable Bass Strait was strong and resulted in over 160 ships coming to grief on this coastal stretch.


Just a note:
There are lots of motels and small hotels along the Great Ocean Road so take your pick, but if you are visiting during high season in the Australian summer, they fill up fast, so you probably want to make a reservation from one of the
visitor centers
. Since we were starting out by car from Melbourne, we stopped at the Geelong Visitor center a few miles into the drive and it was full of useful information about the area's history, sites and accommodations.