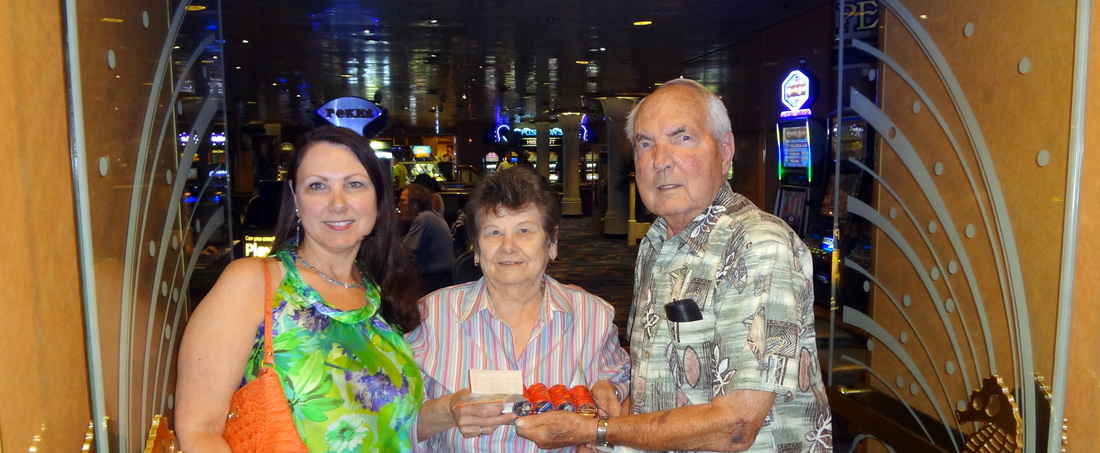 These are just a few suggestions that might be helpful when traveling with your family, especially parents. It's easy to get busy with excursions, relaxing by the pool, shopping, and all the other distractions available, but to make sure you actually spend time with family, try a few of the 11 tips below!

1. Bring games with you – Scrabble, Yatsee, Cards, Chess etc…… (most ships don't have a great selection of games and they are pretty worn out).

2. Sit in one of the many lounges to play those games. We used hard candy as chips for poker! Everyone will stop by to talk when they see what you are doing.

3. Bring Walkie Talkies (don't pay humongous cell phone fees!) so you can find each other spontaneously on the huge ship. FYI - The ship phones are available also if you don't have a WT. (They are all over the place, usually on the walls) so you can leave a message on your loved-one's room phone.

4. Play Bingo (my parents love Bingo!)

5. Take part in the Trivia nights (It's a blast)

6. Go to the spa with your Mom.

7. Watch a movie under the stars with the family. (they even serve popcorn and ice cream!)

8. For those who gamble, watch the pro in your family compete in a Poker or Blackjack tournament or have them teach you how to play one of the games in the casino.

9. Go to Tea with your Dad. (My dad loves a good English high tea!)

10. Plan to meet up on shore for a meal, drink or shopping, if not everyone can handle an all day excursion or has limited walking capability.

11. Plan to have a special meal with everyone in one of the specialty restaurants, not just the main dining room.

I hope these suggestions help. They are just a few that work for us and maybe they will enhance your trip with your family also!