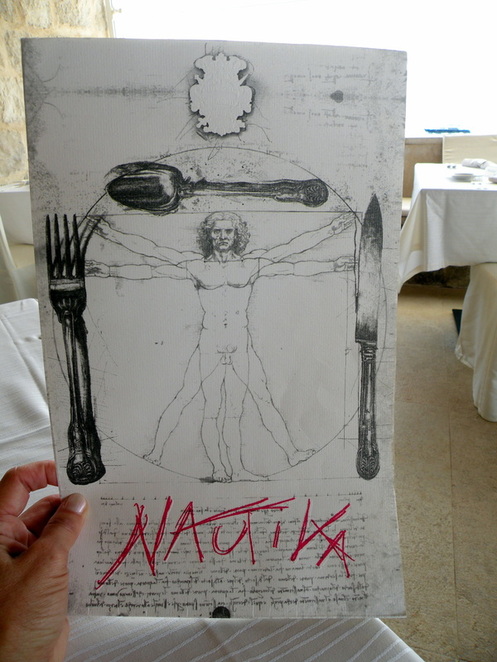 Hmmm…….. where to eat lunch in Dubrovnik. I have to admit there are plenty of choices, most of which will be less expensive, but if you want to have a memorable moment with fantastic views of the fortresses of Lovrijenac and Bokar and expansive views of the sparkling blue Adriatic Sea, while eating fresh, authentic, Croatian food you must dine at Nautika.


We first noticed the beautiful honey colored building, sporting French style white shutters and overlooking the cobalt blue waters of the Adriatic sea as it sat at the entrance to the Dubrovnik's Old City and were drawn to its beauty. As it turned out, the restaurant is housed in what was the Dubrovnik School of Maritime Studies back in the 19th century, and it retains its historical atmosphere.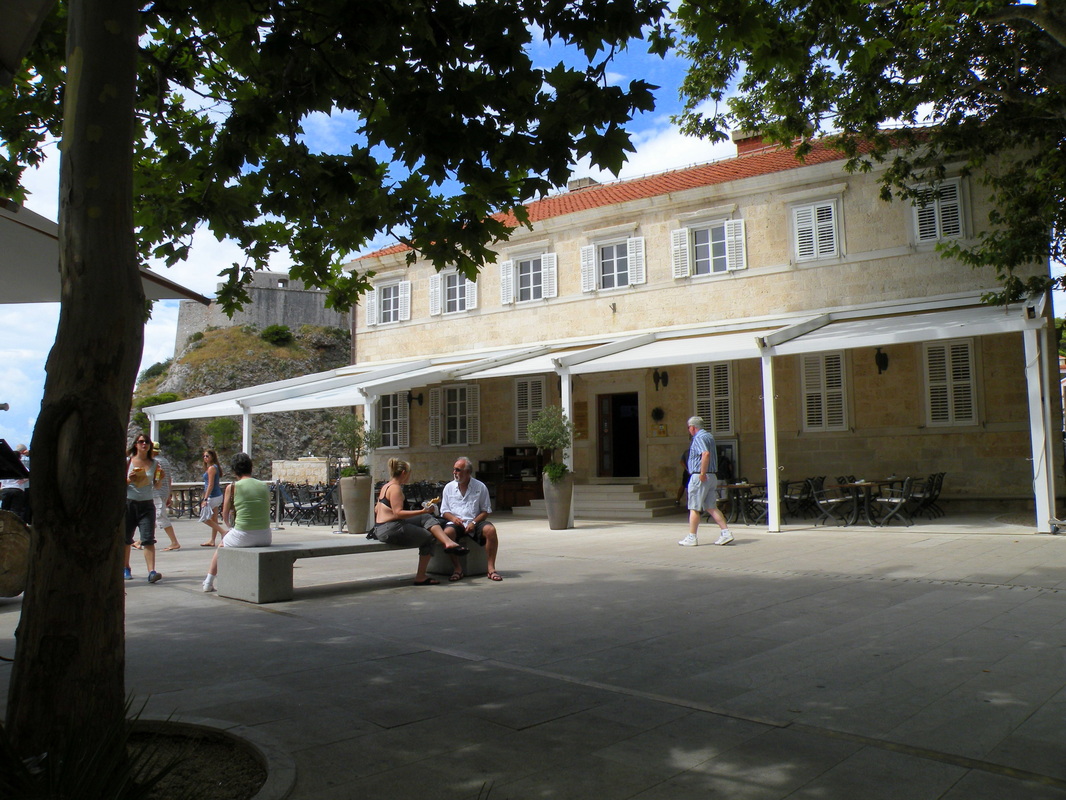 Though we didn't know it at the time, it has been voted the sixth most romantic restaurant in the world by Conde Nast Traveller Magazine.

There are terraces overlooking the water, the lower terrace offers a less formal and therefore less expensive dining opportunity, but we opted for the upper terrace which is a little more upscale.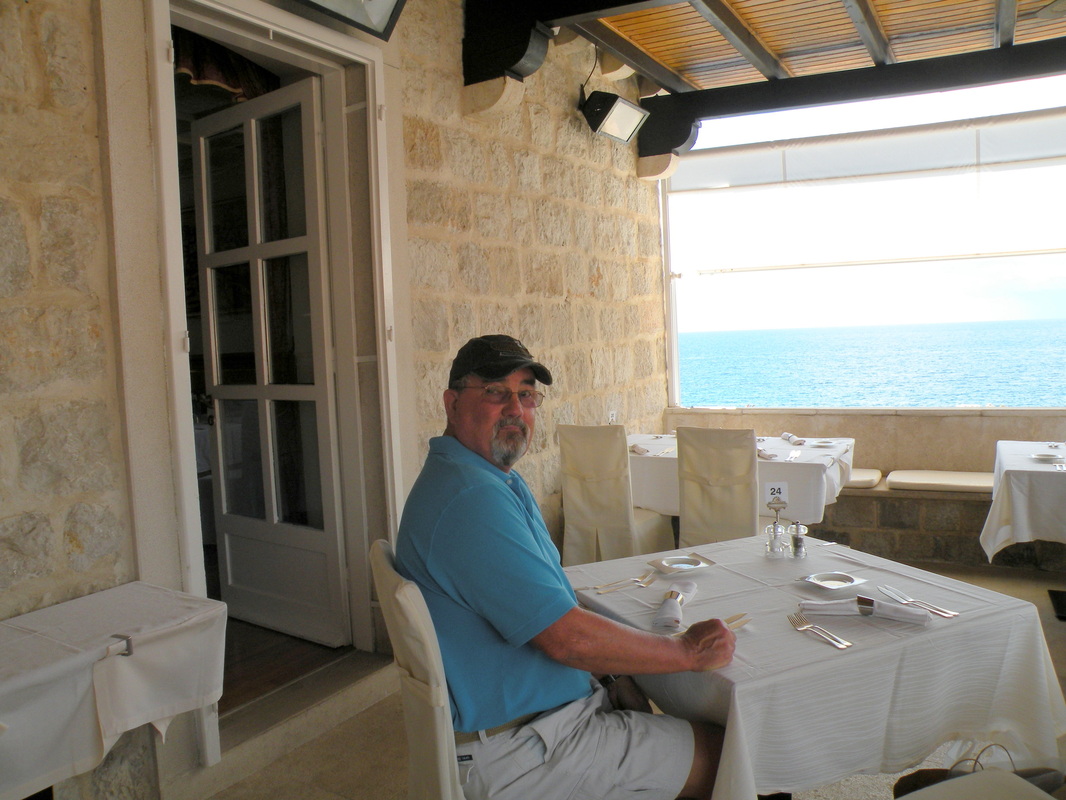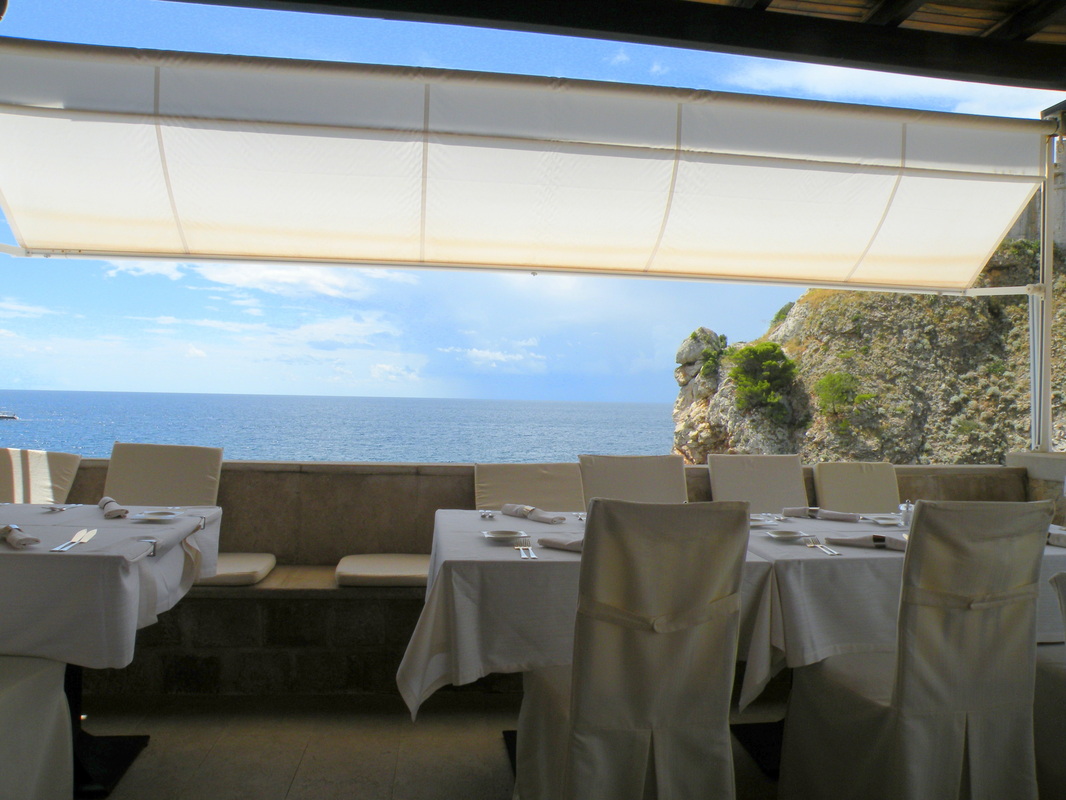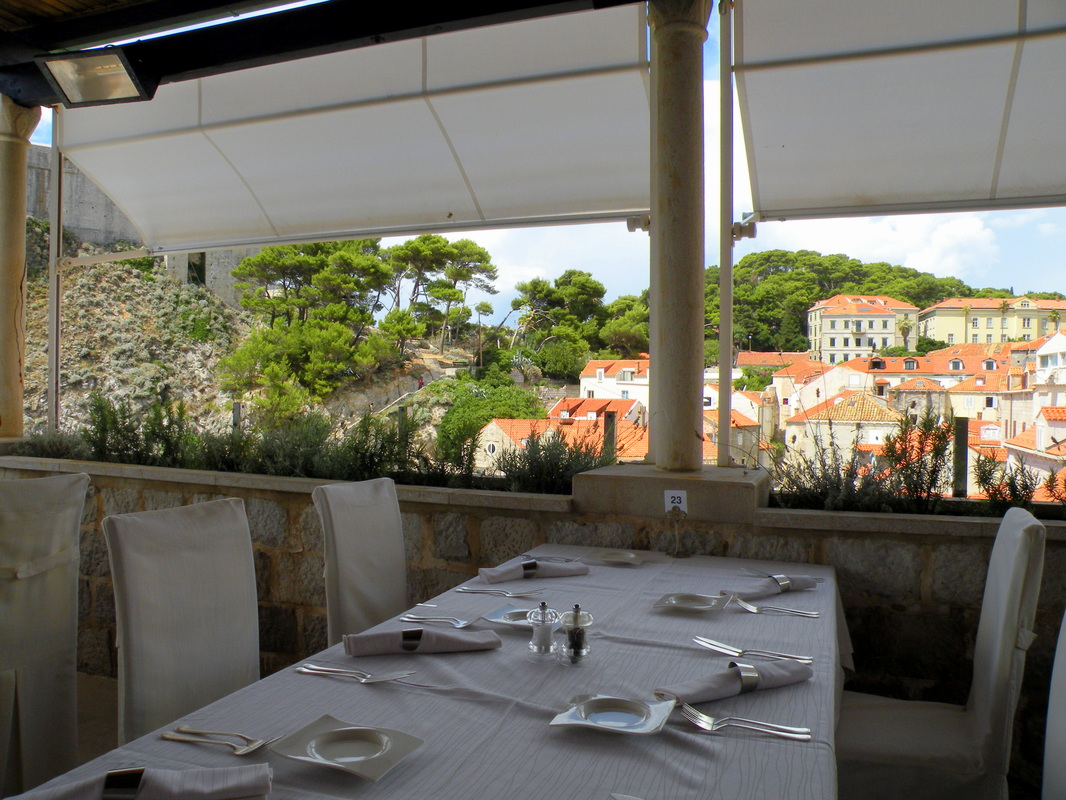 After practically drooling over the wonderful menu choices, we chose the "Menu Marin Drzic" a selection of traditional Croatian delicacies.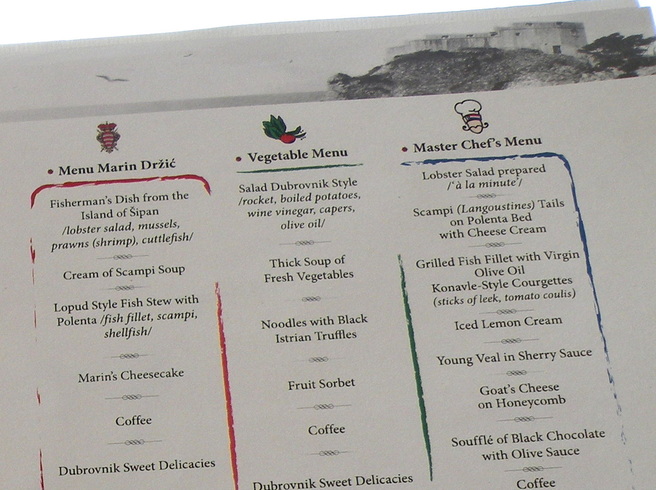 We ate fresh lobster, prawns, mussels and cuttlefish fished from the local waters and purchased by the chef each morning down at the docks. We also had a creamy Scampi soup and savory fish stew. The deserts were wonderful also, but I'm still dreaming about all the fresh seafood!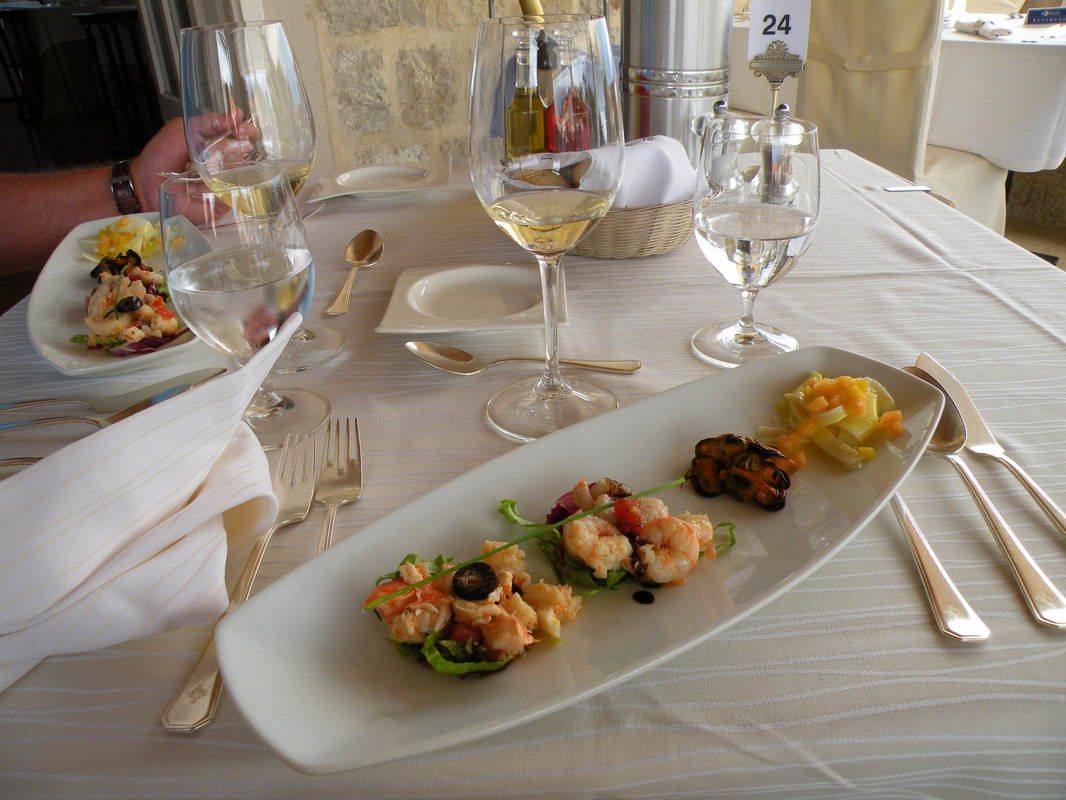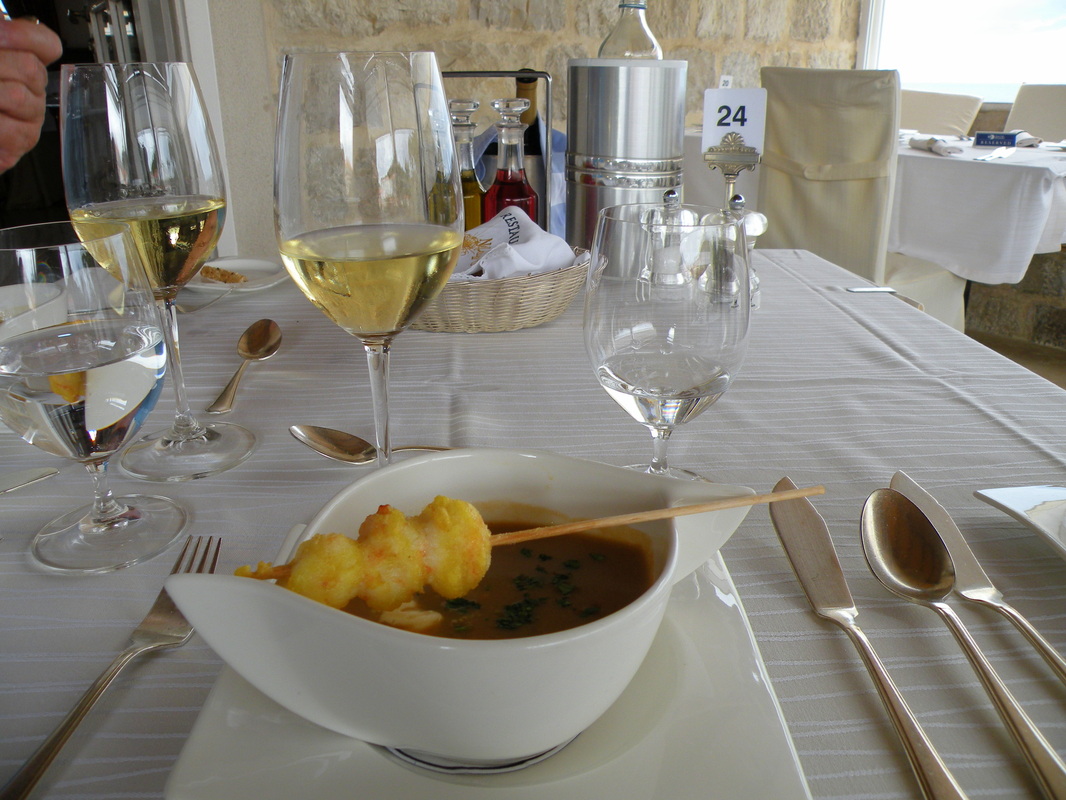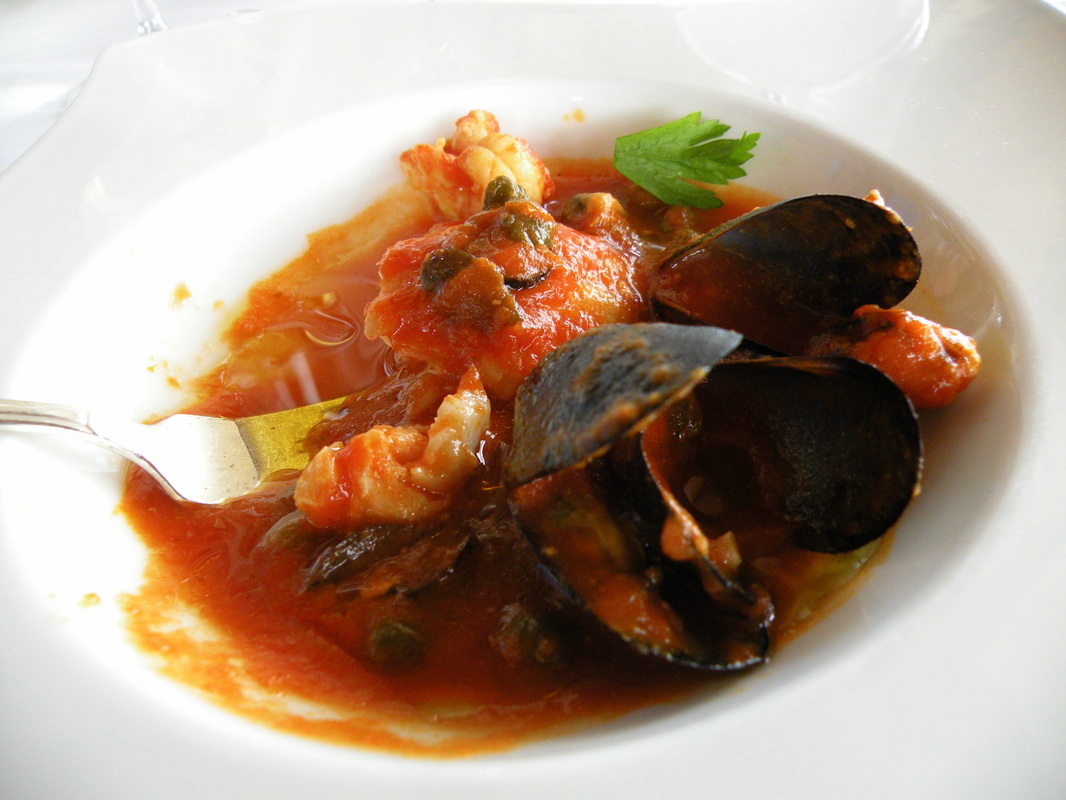 Of course, we couldn't eat without a crisp local wine to sip we selected the "Posip Entrada Krajancic, 2010", a Croatian white wine. It was refreshing and delicate, but I'm not a wine expert, so I'll quote wine critic Limon.HR.

"The aroma of this vintage is marked by the very clear, precise and fresh fruity aromas of citrus fruits and lemon zest, with dried flowers in the background, supported with pleasant, although covert minerality. Later, after it became "looser" and started breathing, the strong herbal character of dried Dalmatian herbs appeared. ........ Together with "lemony" acidity, it stands nicely against the alcohol (13.2%)."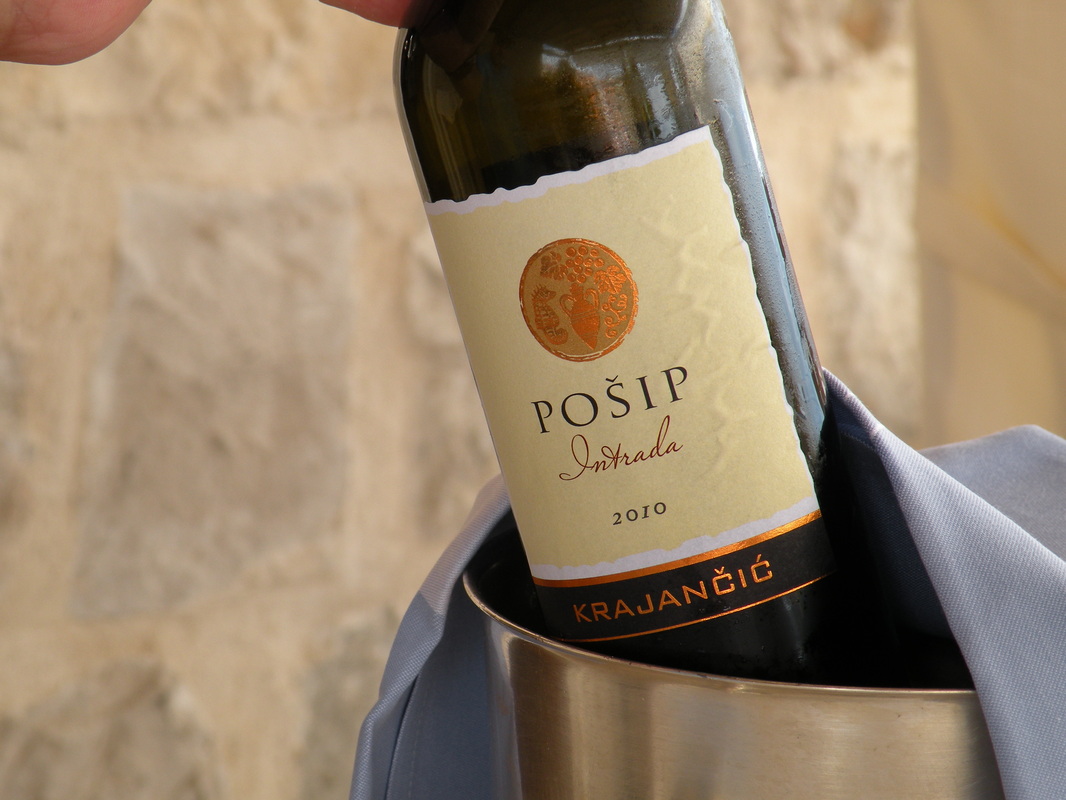 When we were able to pull our gazes from the beautiful food, we realized that the view was equally as stunning. One side of the terrace looked out over the bright red tile rooftops Dubrovnik is famous for, and the other looked out over the sea, the rocky shore and the historic fortifications of the old city.

Amazingly, one minute the water was blue and sparkling and the next, dark gray clouds blew in and a dense rain blurred everything as its cool mist blew in toward us. Not a problem though because a few minutes later, the sun had returned and clouds floated white in the sky again. This short rain burst only added to our magical lunch.