Trafalgar Square
and a Double Decker Bus Ride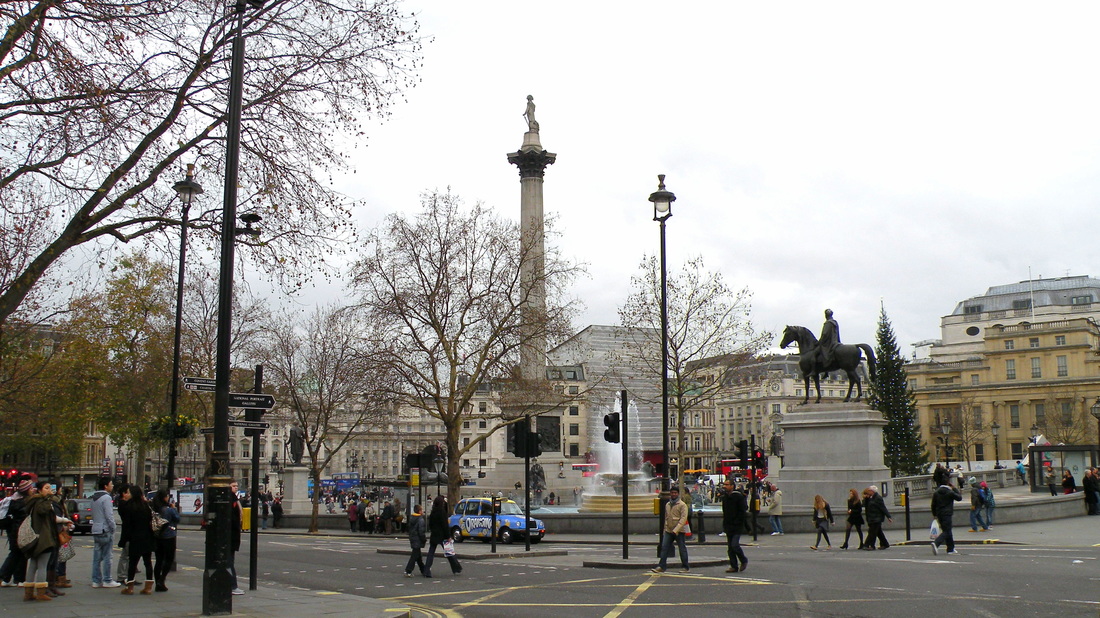 Just a quick note……..

Don't take an open air bus ride on a rainy day! Or a freezing cold day! We did both of those and it was really uncomfortable. Also, do NOT use the hop on hop off buses for transportation between sites. The traffic is so bad that it can take HOURS to make the circuit of the tour map. If you want to take an open air bus ride around London, plan it as an attraction to which you want to devote half a day. The sites are spectacular from the top deck of the bus and the tour is definitely worth taking since it offers a really great perspective of the city. A recorded audio provides lots of information about the sites you will see. But remember….. Use the Underground or a Taxi if you really want to get somewhere in a timely manner! Jim and I abandoned the tour at the Strand to sample a few of the dark timbered, hoppy smelling, impressively old pubs that are sprinkled along what used to be the hangout of writers such as Charles Dickens, Ralph Waldo Emerson and William Makepeace Thackeray.

Don't miss Trafalgar Square. The sculptures and fountains are beautiful and people climb all over the huge bronze lions peacefully curled up on their plinths to pose for pictures. It is the home of the National Gallery which is my favorite art museum in London. The gallery is full of old master paintings. This is a museum where you will want to find out where the famous masterpieces are or even just your favorite art historical period so you can navigate to them first because the galleries go on for what seems like miles full of stunning works. No pictures allowed though so you will have to go there to see them!


Check out the Photo Montage Below!