Even Walking Around Exhausted is More Fun in London!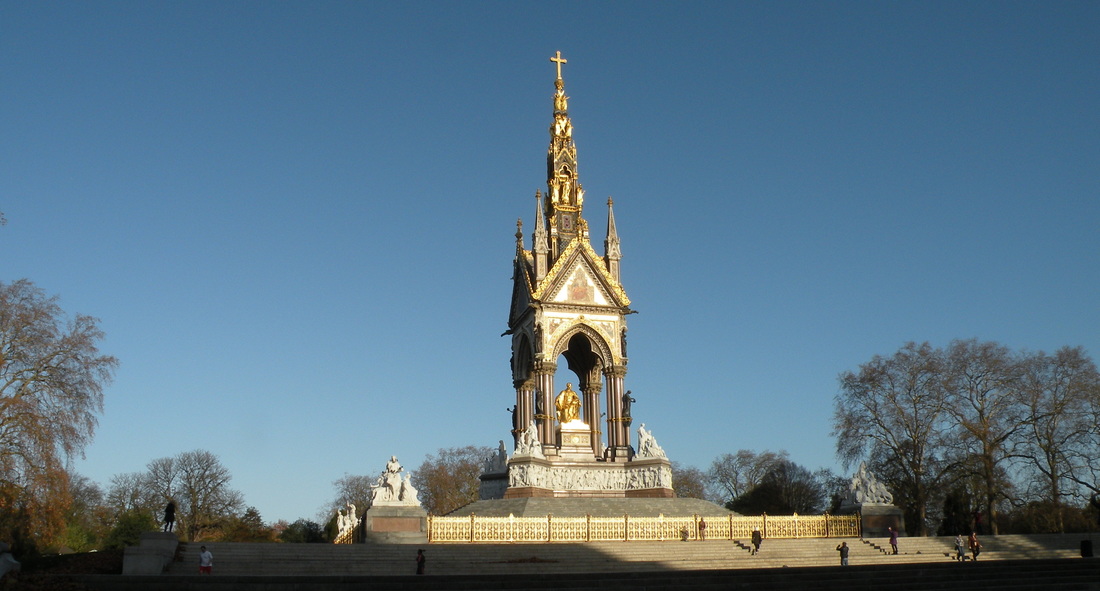 As anyone who travels from North America to Europe knows, most of the time planes arrive in the morning and you have to hang around until the afternoon before you can check in to your hotel. Jim and I dropped our luggage at our hotel in South Kensington and took off to wander on foot through our temporarily adopted neighborhood. Kensington is a charming area to walk where streets are lined with stately rows of white Georgian townhomes whose front steps are lined with tall columns and pointy black iron railings. We wandered up the high street to Kensington Palace and Hyde Park which was gilded with autumn leaves. Since Kensington Palace was under renovation, we decided to walk over to Knightsbridge for a peek into Harrod's.
The walk also took us past the Albert Memorial, a golden tribute to the long lost beloved consort to Queen Victoria, and Prince Albert's vision the Royal Albert Hall built in 1871, where great performers like Frank Sinatra, Jimi Hendrix and the Beatles have all played their music, and luminaries like Churchill, Nelson Mandela, the Dali Lama and of course the Queen have all spoken.
Be sure to keep an eye out for some of the icons of London, like the red telephone booths and the tiny "Cabman's Shelters" where cab drivers can take a tea or coffee break, a uniquely London site.
We got completely lost even with our map. Fortunately as we wandered the maze of Knightsbridge streets we came upon a mother and young child heading out shopping. Surprisingly, they were Russian and we soon learned that lots of wealthy Russians live in Knightsbridge. Fortunately Mum took pity on our poor lost selves and led us through the warren to a "secret" opening in a vine covered brick wall and finally as we came out on the noisy busy Brompton Road, with one last look back at us and a wave, she pointed out Harrod's across the street.
Harrod's Department store lives up to its extravagant hype. The store windows were all designed for Holidays and mannequins were posed in dreamlike vignettes with swans, crystals and faux snow creating fantastic, sparkling winter wonderlands.
No matter how cliché you may think a visit to Harrod's is, as soon as you enter the grand department store you are aware how special it is because you are greeted by a smiling uniformed doorman holding the door. Every floor is extremely elegant and filled with stylish and expensive designer clothing and accessories. Even though I found it a little strange, out of curiosity I had to see the Princess Diana and Dodi Fyed memorial where you will also find the Egyptian escalator. Our real goal was to find the famous food hall. Not only did the food hall have all sorts of luxuries like British tea, preserves and chocolates packaged in London themed wrap or tins, but lying in long display cases were varieties of pate' and foie gras, fine seafood, cheeses, meats, pastries and just about any other sumptuous food you can think of. Best of all, there were high counters where you could order rotisserie chicken, grilled steak, sushi, and oysters and wash it all down with champagne right inside the food hall. Since it was still early in the day and the tiny food hall restaurants were just setting up, we decided to head out into Knightsbridge to find a meal.
After trekking up and down the streets near Harrod's where most of the restaurants were closed, we finally ate a late breakfast and drank a fragrant and rejuvenating pot of tea at a chic bistro called the Brompton Quarter Brasserie. It was about noon, so we were actually looking for lunch, but found out that London restaurants DO NOT serve lunch before 12:30 p.m. EVER. Fortunately, this breakfast was one of the best I have ever had. My vegetarian eggs Benedict were delicately flavored and poached to perfection. Fortified for the walk back, we headed to the hotel with our fingers crossed hoping our room was ready.
We had chosen to stay in the Hotel Mercure Kensington because it was modern and comfortable. I know everyone has their preference when staying abroad. Some like to stay in bed-and-breakfasts or vintage style hotels. While now and then that can be fun (especially in a castle!), my personal preference, (and Jim's) are clean, modern, hotels with comfy beds, wi-fi, flat-screen TVs and luxurious bathrooms. After an exhausting day exploring a new country, it's just restful to come back to such a soothing environment. As you can probably tell by now, we are not the backpack on a tiny budget type of travelers.
The Mercure Kensington is not very pretty on the outside, but the spaces inside, while having been recently remodeled; retain the original Georgian feel and are elegantly stylish. It also has a tiny outdoor seating area where you can relax and have a last glass of wine if you are absolutely too pooped to venture out late in the evening. The hotel is conveniently located just a few minute's walk to the Earl's Court underground station. That station was to be our launch point to the city of London. After walking all the way back from Knightsbridge (it's a hike!) we were relieved to see our little hotel. We trudged wearily into the lobby and gratefully accepted our room key. Upstairs in our quiet comfy room we finally collapsed into bed for a blissful nap.
A few hours later to finish off our first day, Jim and I headed out for the short walk to Earl's Court. We were on a pilgrimage to find our first real "English" beer. As we sat at the high oak tables in the Courtfield, we decided that this would be our "local" pub and it was obviously one of the old-world neighborhood establishments. It was warm and cheery and our South African bar tender was full of information and was glad to answer my husband's important questions like "is there an Aussie bar in London and where is it?"
Our informative bar tender also recommended The Pembroke Inn, just around the corner so of course we had to check it out too. Decked out with a Christmas tree in the corner, that early evening, the pub was quiet so we had a chance to check out their kegs of local beer which were wrapped in some sort of black insulation and stacked in the center behind the bar. I've never seen anything quite like it, but it sure kept the beer nice and cold!
Best of all, both pubs were not too far from the Earl's Court underground station, so after a long day of touring we would be able to come straight from the tube to the pub. Does it get better than that?
Check out the Photo Montage Below!