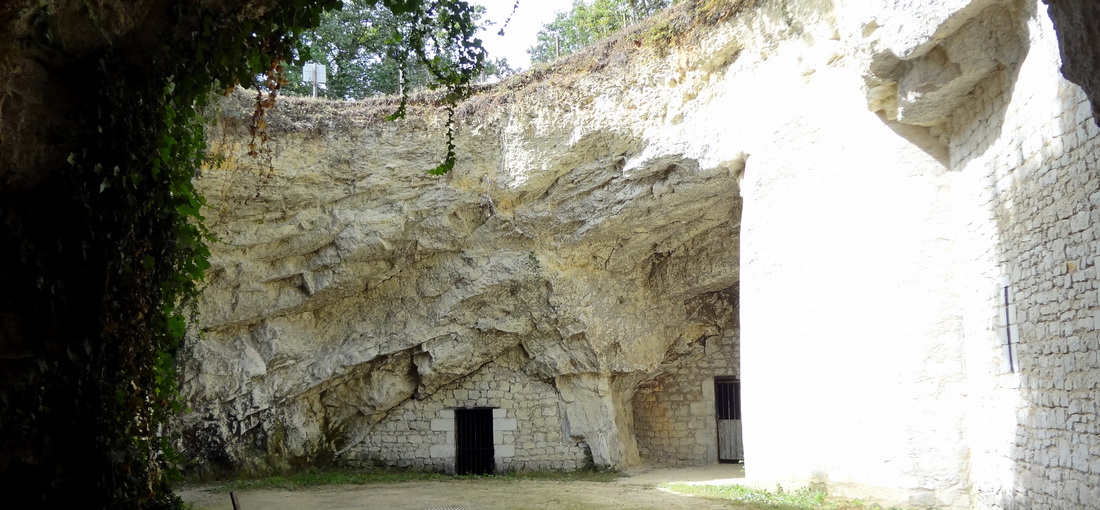 During a two day stay in Chinon while on our driving tour of the Loire Valley Chateaux my wife, Susan, decided that we should take a short break from looking at the many chateaux to visit a wine cave. She had obviously done her homework as she already had one in mind. So we drove from our hotel in Chinon to the
Cave du Pays de Bourgueil
on the outskirts of the town of Bourgueil which is about a thirty minute drive. Having the address of this tourist attraction and a GPS made the trip much easier and a good deal more pleasurable.
When we first arrived the cave was closed and no one was in the outbuilding that served as the office/shop and wine tasting facility. We quickly learned that we had arrived at lunch time so rather than just sitting around we set about taking pictures of the vineyard. The manager and her dog arrived at promptly 2:30 which is what the sign on the door indicated. She was a very pleasant woman and talked intelligently about the region and the wines that were produced there. She also explained how and why the cave was created. Apparently it originated as a quarry to extract stone to build some of the Chateaux in the region and then it laid dormant for a couple of hundred years until someone came up with the bright idea to store wine in the caves due the caves maintaining a constant temperature that is advantageous to wine storage.
After learning about the cavern she escorted us into the cave and after providing information about the museum (the cave is actually a museum) she departed and left us alone. We were the only people in the cave so we were not rushed as we visited each exhibit and took lots of pictures. Most of the displays were an assortment of antique wine presses, some being huge and dating back to the sixteenth century, and other equipment found in producing wine including barrels and tubs of all sizes. Other displays told about the history of wine making in the region.
After the tour of the cave we returned to the shop to sample some of the local wines and to learn more about the wines produced in the area. After tasting a number of the wines we purchased a few bottles of one that we particularly liked. This excursion is worth the 4 ½ Euro fee.