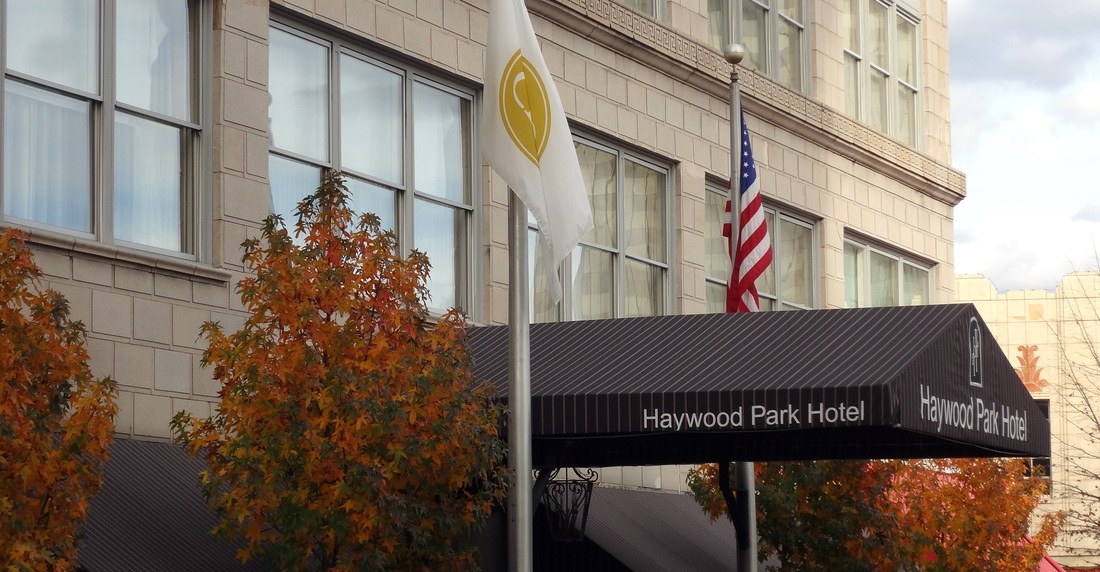 We live less than an hour drive to Asheville, North Carolina, which is a good thing seeing that we really enjoy visiting that city. During our many overnight trips to Asheville we have stayed at a number of hotels but our absolute favorite is the
Haywood Park Hotel
located at 1 Battery Park Avenue. There are several factors that readily come to mind that make this a great place to stay while in Asheville. First, the location cannot be beat; it is situated in the heart of town near numerous restaurants, pubs and shops. Many of these treats are within a four or five minute walk from the hotel.
In addition to being in a great location the rooms are large and are very well decorated. A recent renovation even improved the flow of the already nice floor plans. The beds are very comfortable and it's nice to arrive back in your room after being out on the town to find that your bed has been turned down and that chocolates have been left on your pillow. The bathrooms are also large; with long marble vanity sink areas and beautiful marble tiled floors with a nice soaking tub and stand-alone shower not to mention the strategically located wall mounted television. Additionally, we have always been impressed with the cleanliness of the rooms.
The hotel is a four story building with 33 rooms and in an earlier century the building served as a department store. Our most recent stay was on the third floor which was the children's clothing department and when the elevator arrives at that floor a speaker within the elevator announces that you have arrived at the children's department. Each floor has a large inviting sitting area from which the rooms are accessed. These sitting areas contain examples of the merchandise that were available on that floor when the building was a department store. The third floor has a couple of mannequin children dressed in period finery within a glass enclosure.
This review cannot be ended without addressing the fact that the staff has always been professional, extremely courteous and very helpful. In addition to all of the above the hotel offers valet parking at no additional cost which is a very nice bonus.
CLICK HERE TO VIEW PHOTOS ON YOUR MOBILE DEVICE