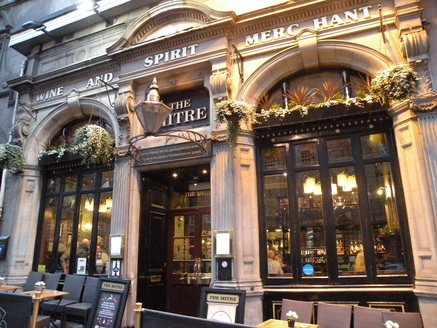 The Mitre Bar
on the Royal Mile in Edinburgh is a busy yet very comfortable place to sit and rest your weary feet while partaking in a restoring pint of good ale. Being the end of November, Susan and I stopped for a drink and to warm ourselves during one of our many chilly treks around this beautiful town.
This pub has an interesting tale attached to it! As the story goes, in 1615, the site of the pub was occupied by a fine tenement that was owned by John Spottiswood, then Bishop of St Andrews. The tenement burned down in 1814 and was said to have been replaced by The Mitre Bar, the name being a nod to the bishop's headgear.

Since we were unfamiliar with Scottish Ales, the bar-tender allowed me a small taste of a couple of their wonderful cask-ales before I decided upon which pint I would order. This of course led to ordering more than one pint!

We sat at a counter that runs along the wall across from the bar counter and though we were only having a couple drinks, we watched while delicious looking pub food was delivered to hungry patrons.

It was fun to people-watch from our perch and the staff was busy hanging Christmas decorations between service duties. We made a few visits to the pub over our two week sojourn in Edinburgh, and by the time we stopped in on the last day of our stay; the pub was a festive and cozy Christmas scene.

This pub is definitely a recommended stop for anyone visiting Edinburgh!