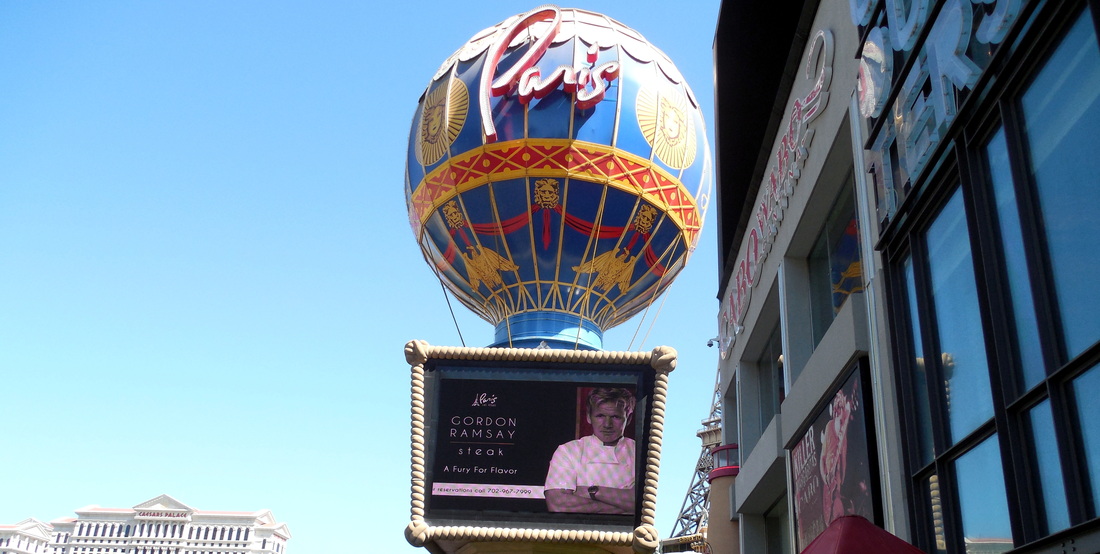 My wife, Susan, and I have been somewhat impressed with the reputation Gordon Ramsay has as a world renowned chef and restaurateur so when I was making plans for our latest visit to Las Vegas I made a reservation at Gordon Ramsay Steak at the Paris Las Vegas. Of course, we knew that Ramsay would not be the chef but we also knew that he held his restaurants to a very high standard and we expected the food and service to be exceptional.

On the evening of our reservation we arrived early so that we could sit at the bar and have a drink before dinner and to assess the operation of the "front of the house." The service at the bar was excellent and we were to learn later during the course of the evening that the overall service throughout the restaurant was first-rate.


We were taken to a cozy booth on the main level with the open kitchen located very close behind us. It was a very nice table in a good location, with very little traffic and a great position to view the action in the main seating area. There is also an additional seating area in the mezzanine but we did not take the opportunity to visit.

While perusing the wine list our server returned to the table and asked if we would like to talk to the Sommelier before ordering our wine and we were not about to turn down the opportunity to seek the opinion of an expert. The Sommelier spoke very knowledgeable about the various wines and he liked the one that we had selected but actually recommended a less expensive wine and we ordered the one that he recommended and it turned out to be an excellent wine.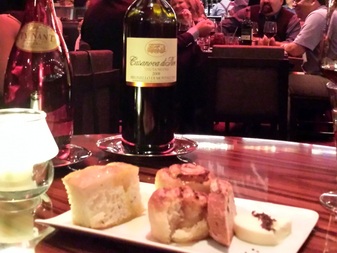 After ordering the wine our server wheeled a cart to the table supporting a presentation rack in the shape of a standing wheel that displayed 10 – 12 different cuts of meat. I was immediately interested in the 24 ounce Bone-In Rib Eye that looked delicious and I knew that it would definitely be filling. However after the server described each of the cuts and recommended the American Rib Cap that was eight ounces I went with his recommendation and Susan ordered the eight ounce Filet.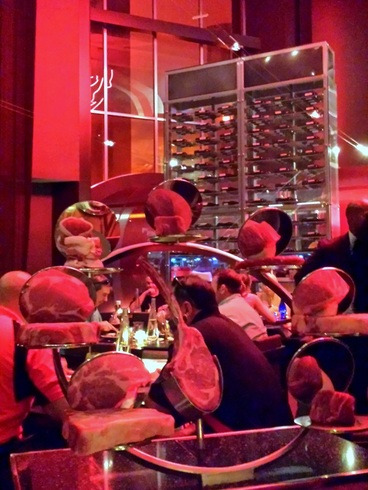 While looking at the list of appetizers I spotted Smoked Beef Tartare and beef tartare is one of my favorite dishes and I told the server this but I also told him that I didn't think that I would enjoy the beef if it had much of a smoky flavor and he said that he could serve the tartare with a very little smoke flavor so I ordered it and Susan ordered the Foie Gras. Foie Gras is one of Susan's favorite appetizers and she has eaten it in many restaurants in a number of countries so she was excited about trying it here. We also ordered Fingerling Potatoes and Sautéed Mushrooms to share as side dishes.

While we were waiting for our appetizers to be served the server brought each of us an amuse bouche consisting of an absolutely delicious quail scotch egg. At the time I truly thought I could have eaten a dozen of these eggs and walked away happy without even tasting our ordered meals. However, I have to admit that I would have missed out on an exceptional steak.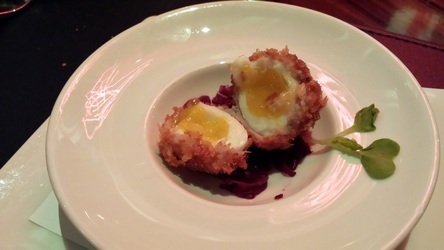 Shortly after eating the amuse bouche our appetizers arrived. My beef tartare was not what I was expecting. This is not to say that it wasn't flavorful but in my mind it was something other than beef tartare. It tasted like it was over-engineered in an attempt to put the chef's personal stamp on the dish. Again, I'll say that it was flavorful but it wasn't something I would order again. We also had the same thoughts about Susan's foie gras because it was quite bland.

When the main dishes were brought to the table they looked marvelous. I ordered my steak to be medium-rare and it was cooked to perfection and the seasoning was lip smacking good. Susan said that her fillet was delicious and we both agreed that the salt encrusted fingerling potatoes and the sautéed mushrooms really complimented the beef dishes.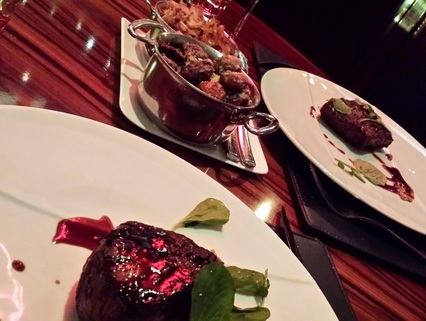 Gordon Ramsay Steak
is a rather expensive restaurant but if you're looking for a place to splurge or if money is not a driving factor in your decision making than you should enjoy the restaurant.