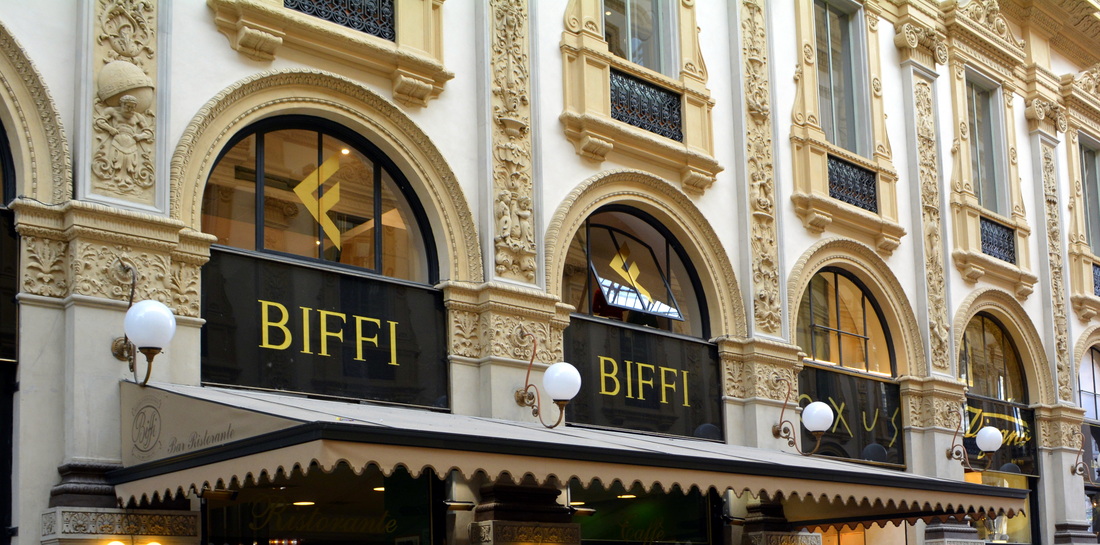 While walking through the beautifully designed, vast arcades, of the Galleria Vittorio Emanuele II, we decided to rest our weary feet and do some people watching. We found
Ristorante Biffi
nestled among the luxury retailers and designer shops. It turned out to be an excellent choice.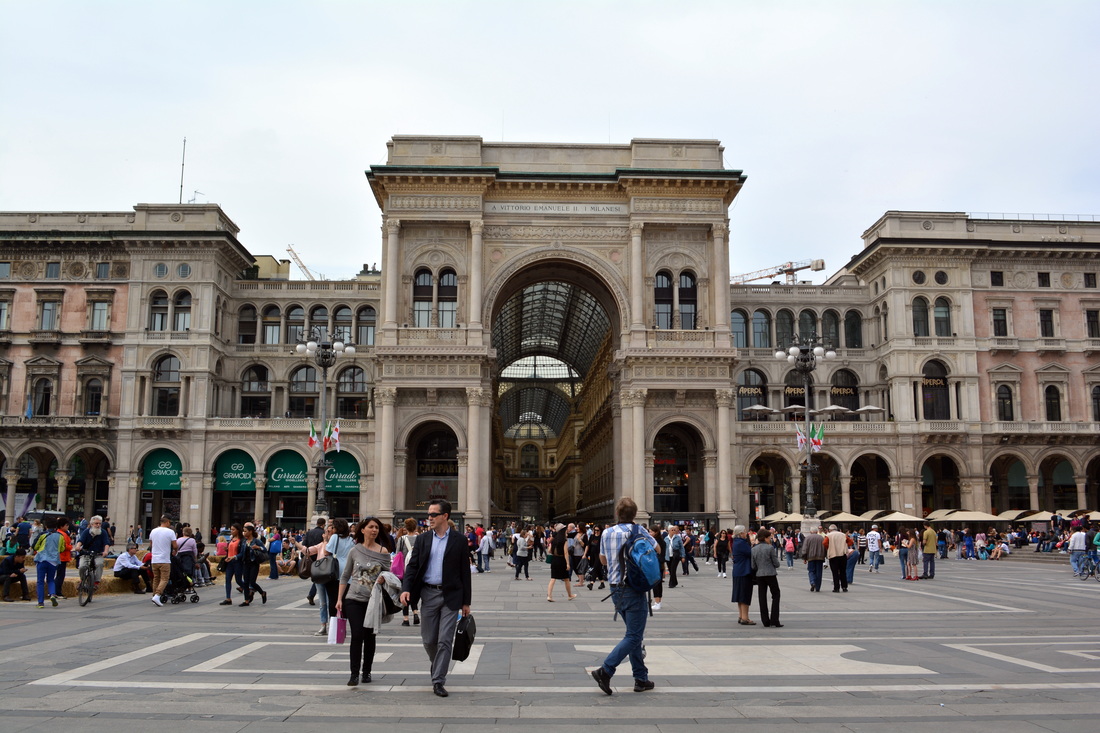 The Galleria is famous for being home to some of the oldest shops and restaurants in Milan, including our choice, Biffi, founded in 1867 by Paolo Biffi, pastry chef to the monarch), which was the first café in the Galleria. In fact, it is often nicknamed IL salotto di Milano (Milan's drawing room), due to its importance as a common Milanese meeting and dining place, and we were happy to settle at our table and become part of this tradition!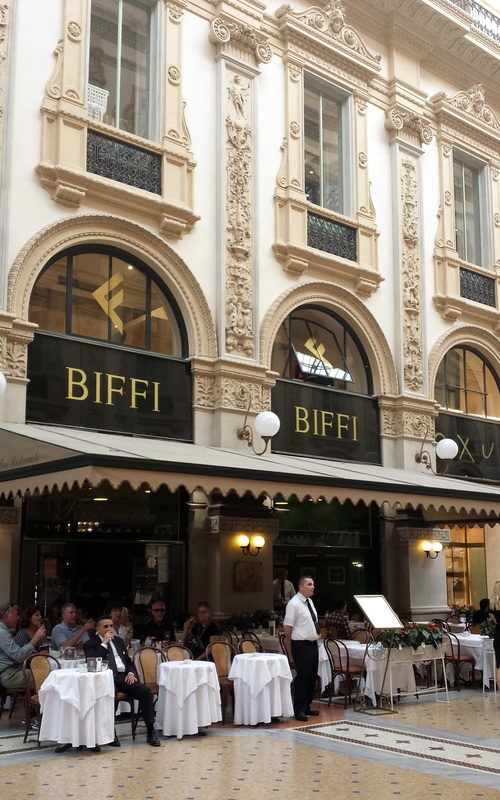 Built between 1865 and 1877, at the beginning of the famous "Belle Époque", the Galleria Vittorio Emanuele II is one of the world's oldest shopping malls. The lofty glass and cast-iron atrium consists of two glass-vaulted arcades, covering the "streets" and intersecting at an octagon space which is covered by a huge decorative glass dome.

The four story shop facades and windows are decorated with intricate stonework, magnificent sculpture and the central octagon area is topped with colorful paintings. This beautiful setting makes a meal at Biffi (especially when sitting "outside" at their atrium patio) even more special.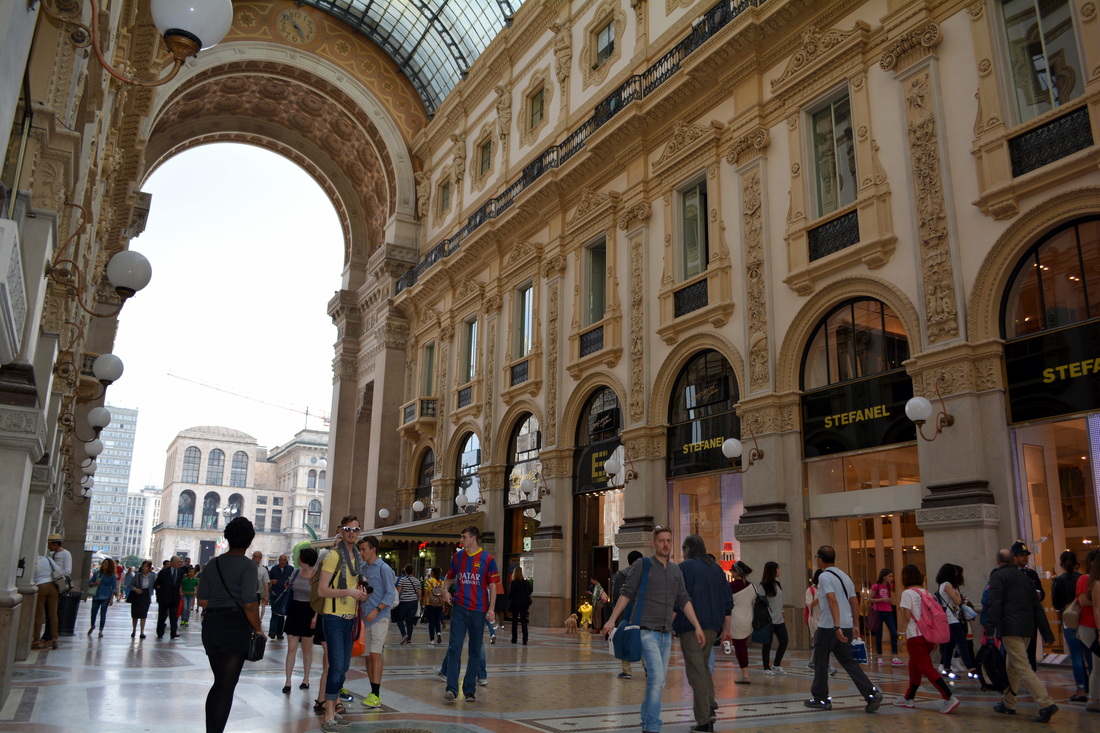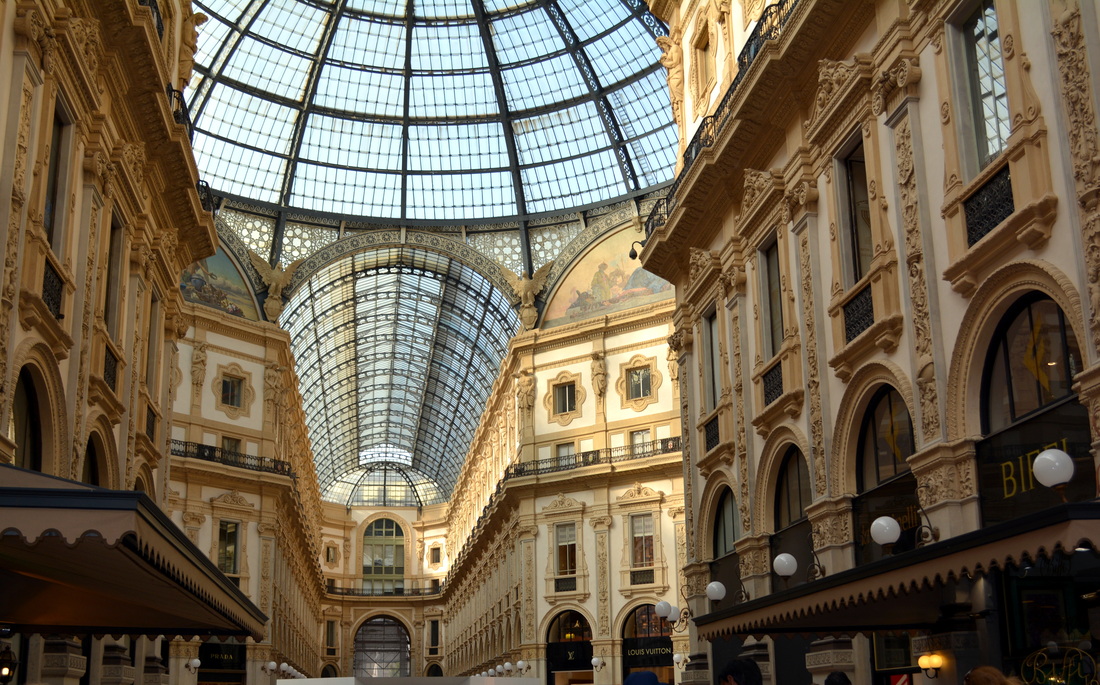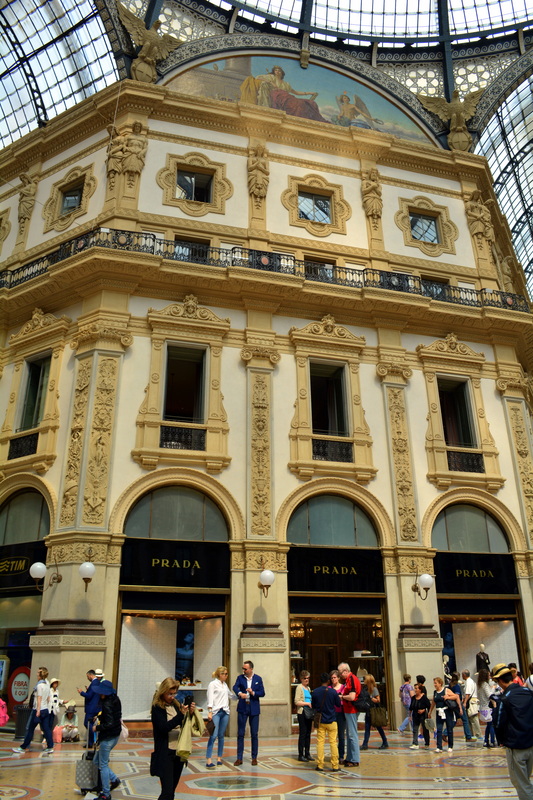 The staff was professional, efficient, friendly and informative and the food was everything we hoped it would be. We snacked on delicious Prosciutto and Melon and Bruschetta. I was even introduced to the regional Pedavena Beer, which was an unexpected treat.

In 1896, brothers Luigi, Sante and Giovanni Luciani established their brewery in Pedavena, Italy, where they had found plentiful amounts of excellent quality water. The brewery opened in 1897 and has been brewing beer ever since. Pedavena Beer is said to be a German style Pilsner beer and certainly was refreshing on a hot Milan day!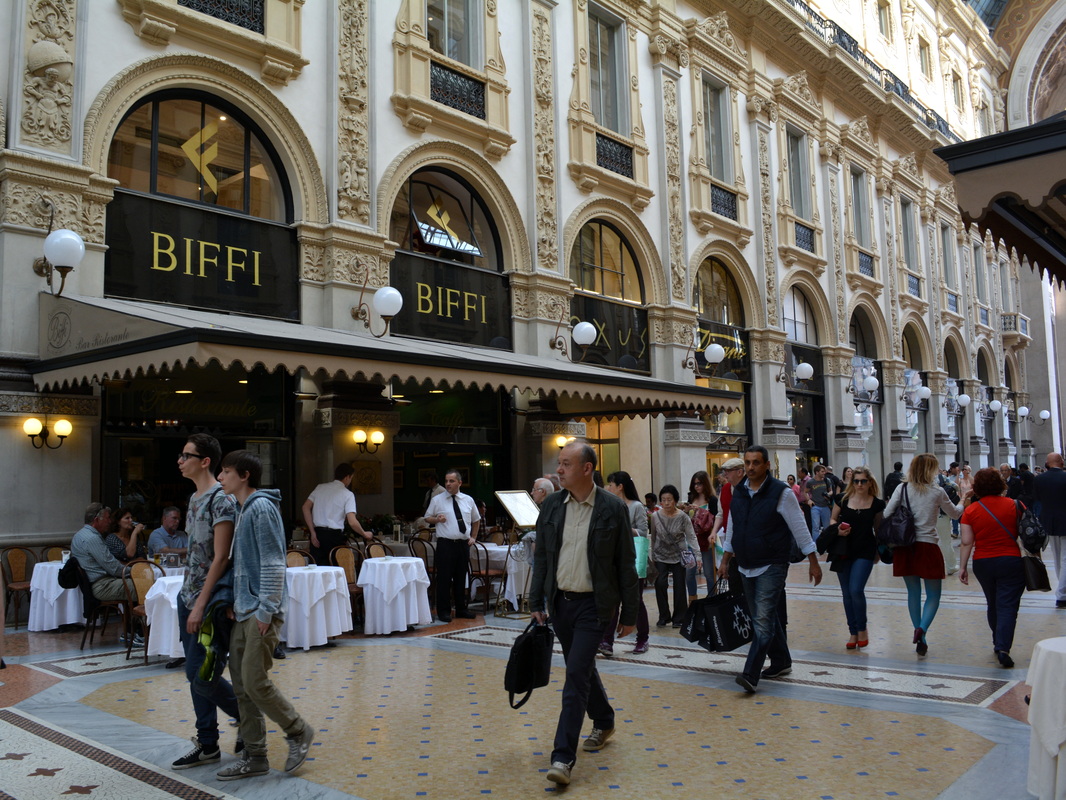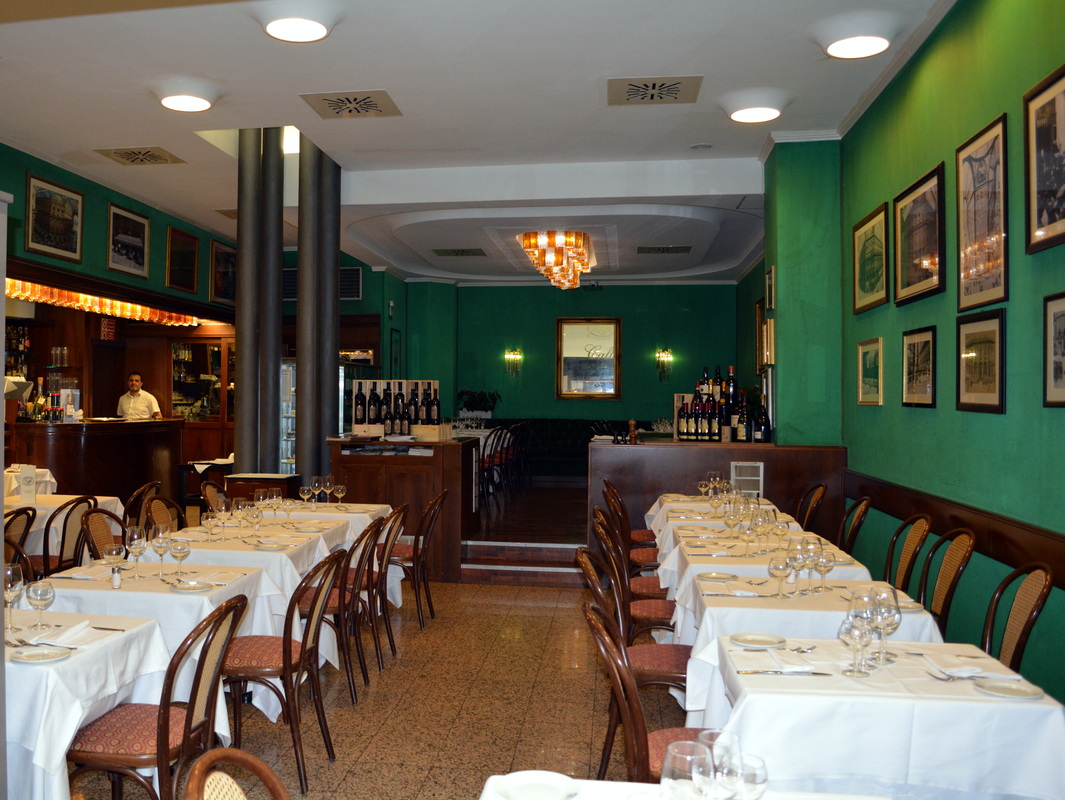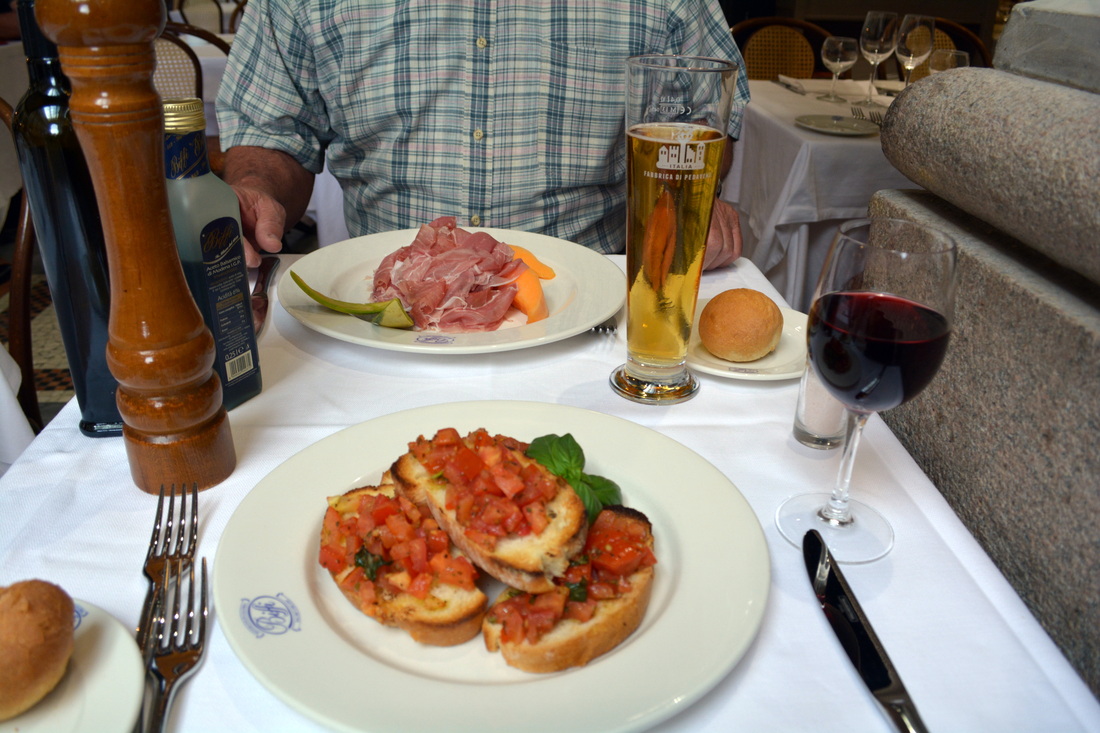 We really enjoyed our time at
Ristorante Biffi
and recommend that you stop by to enjoy a meal or appetizer with a view of the fabulous Galleria Vittorio Emanuele II !