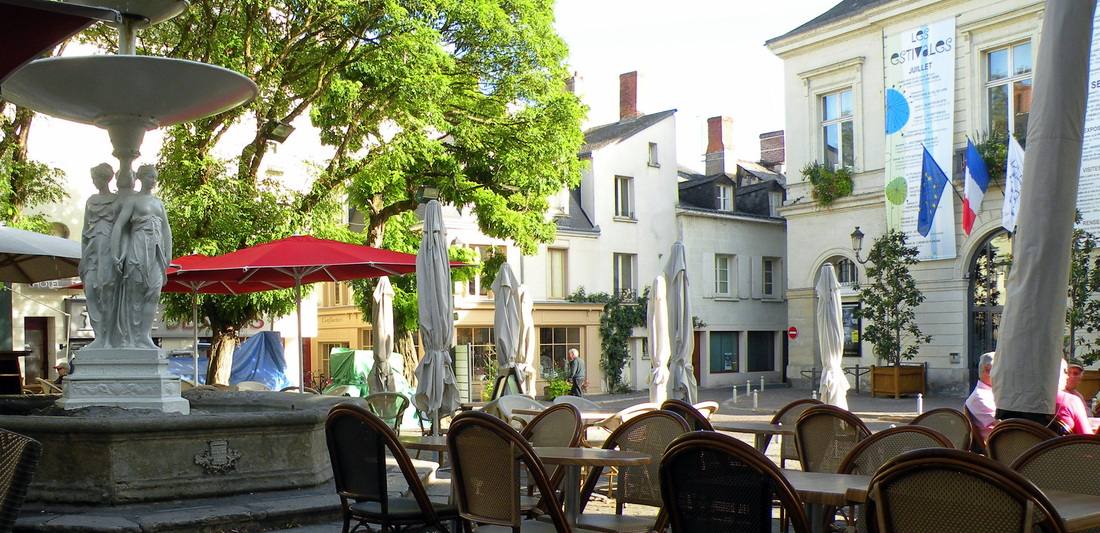 Paris is by far Susan's favorite city and we have visited it on several occasions, she more than I, however on this trip Paris was only the jumping off and ending points of a road trip throughout the center portion of the Loire Valley southwest of Paris. While planning this trip Susan selected the towns/cities of Bloise, Chinon and Chartres as base stations from which to take day trips visiting the magnificent Chateaux of the Loire Valley. This article will focus on Chinon and primarily on the hotel where we stayed while there.
We stayed in a suite at the
Best Western Hotel de France
located on a pleasant square that was quite popular with tourists and locals alike. We sat in this square on two different days and had several glasses of glass of wine while enjoying the people watching opportunities. The hotel is charming and relatively small with only 30 rooms and it is located within sight of the Chateau de Chinon which is within easy walking distance. The suite we stayed in was very attractive and comfortable and upon entering for the first time Susan said that the ambiance was very romantic and I had to agree. The bed was comfortable and the bathroom was spacious and well appointed. The lighting setup in the room was remarkable and very innovative which enhanced the romantic setting.
The hotel offers parking which is located beneath the hotel on the backside of the building. The entrance to this parking area is extremely narrow and once inside the parking spaces are even tighter. The receptionist comes to the parking area and directs you as to where to park (it's that tight). It's a good thing to have a small car, which we didn't as we were driving a rather large rented Mercedes. However, the mere fact that the hotel provided parking is a plus.
The first night that we stayed at the hotel we made reservations to eat at their restaurant. Upon arrival at the restaurant that evening we were guided to a very nice table and the service was excellent. We both had a pork dish that was very good. My main course was preceded by a tasty plate of escargot while Susan had a very good asparagus soup. We were both more than satisfied with our meals.
The second night we ate at the Le Tennessee Restaurant located on one of the narrow streets in the old city center. We sat outside on their "patio" and I had BBQ pork ribs which were pretty good even though I have to admit that the BBQ places in East Tennessee don't have to worry about losing business to this eatery.
I would highly recommend staying in this beautiful old town if you're considering exploring the Loire Valley Chateaux and the Best Western Hotel de France is a good place to hang your hat for a couple of days.