by James Taylor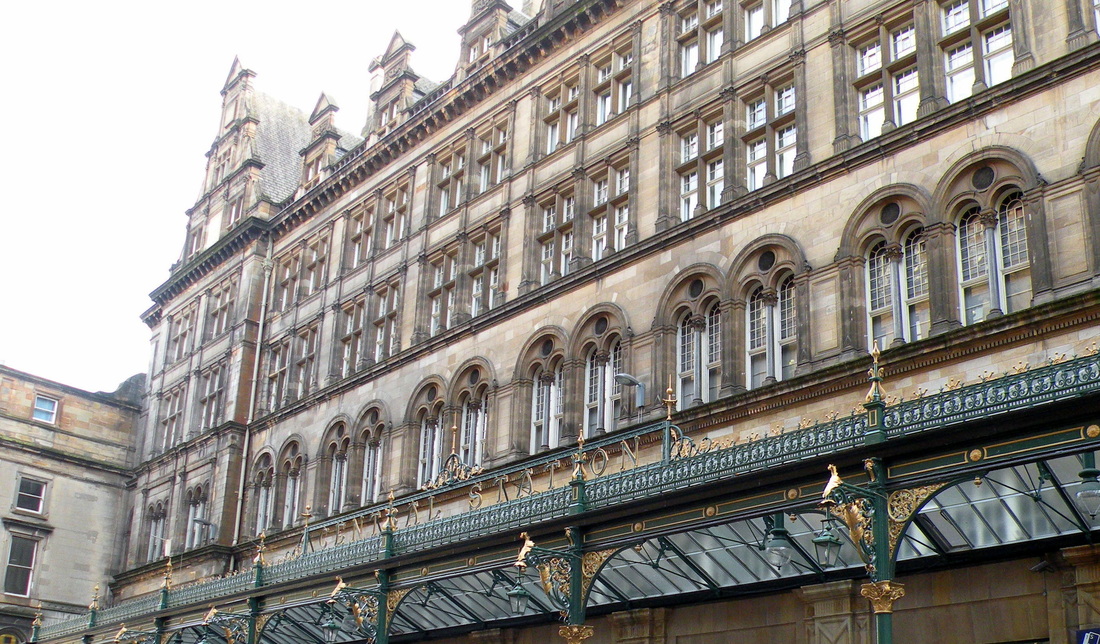 During our recent trip to Scotland we initially planned to stay in Edinburgh and to take day trips by train to several outlaying locations. However, during the latter stages of planning for this trip, after plane and hotel reservations had already been made, Susan decided that we needed to extend our time in country. Then she decided since we were adding more days to the trip that we should also travel to Glasgow and stay there a few days. More money!
She researched Glasgow for a hotel and decided that the
Grand Central Hotel
looked good and after I had a chance to review her research I agreed. The hotel, originally built in 1883 in the Queen Anne style (an English Baroque style) and extended in 1907, forms the front of the Glasgow Central Railway Station and it was one of Glasgow's most prestigious hotels in its heyday.
It even hosted important notables such as Hollywood great, Frank Sinatra and statesman Winston Churchill. It was extensively refurbished and re-opened in 2010 as a grand upscale hotel and has won many awards at the Scottish Hotel Awards, including Glasgow Hotel of the Year. It has also been awarded 4 stars by both the AA and Visit Scotland.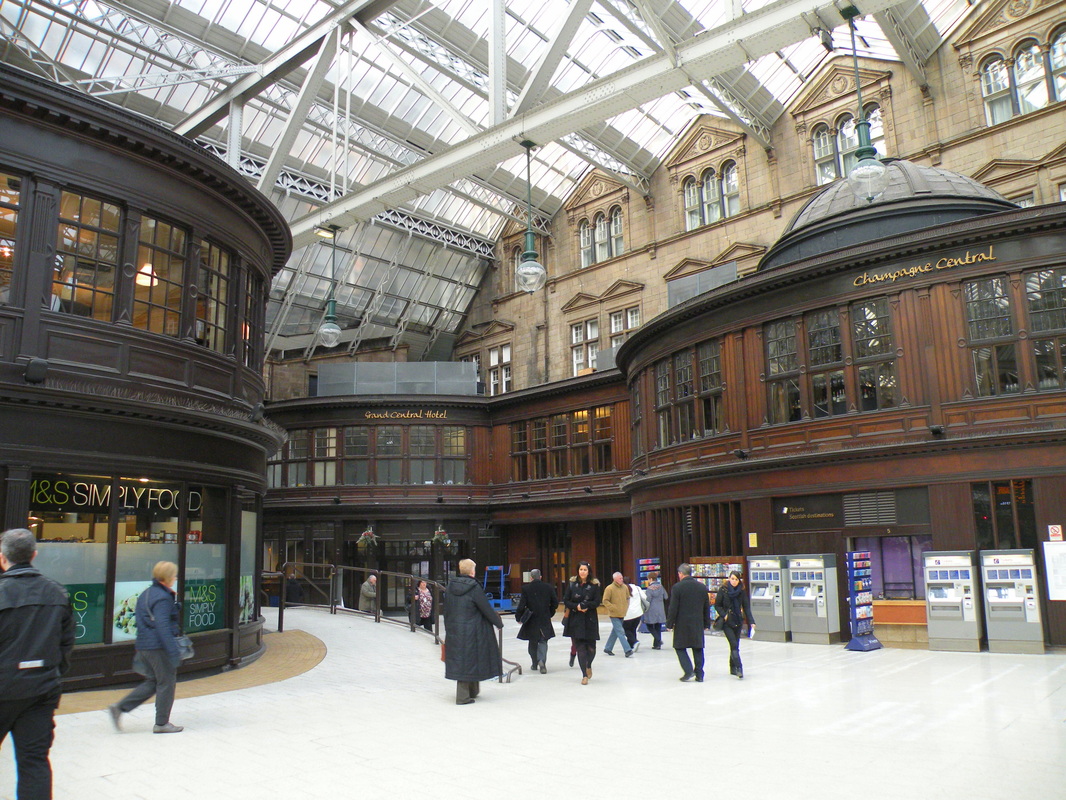 We reserved an executive suite and the room turned out to be very nice. The hotel has 186 rooms but only three executive suites and each of the three unique suites are named after famous individuals having a connection with the Hotel. Our room was the John Logie Baird Suite and it was an impressive room. Baird is said to be the inventor of the first television and is named as one of the 10 greatest Scottish scientists in history. The world's first long-distance television pictures were transmitted to the hotel on May 24, 1927.


It was a shame that we could not enjoy Glasgow, our lovely room, and the historic old hotel as much as we would have liked to. I was just getting over a nasty virus that started two days before we arrived in Glasgow and Susan started displaying the nauseating symptoms the evening that we checked into the Grand Central Hotel so it's not too difficult to believe that we spent a lot of time sick in bed. Thank goodness it was such a luxurious bed!


The suite's bedroom alone was far larger than most non-suite rooms (including the bathrooms) that I have stayed in during past travels and I have been in many many hotels. In addition to the bedroom there was a spacious and comfortable separate sitting room and a sizable bathroom that was well lit. I really appreciate a bathroom that has suitable lighting because it makes it so much easier to shave.

The living room and the bedroom were each furnished with a large flat-screen TV which really comes in handy for couples like Susan and I that have totally different tastes when it comes to watching television. Overall, the suite was extremely comfortable and most important for us, sparkling clean.


We did finally recover somewhat and get down to Champagne Central, the hotel bar, for a cocktail, and the bar was stylish with large windows that overlook the busy interior of the train station, making the view unique and really interesting! Just off the bar is a lounge area where, in the afternoons, they serve a lovely high-tea. During our stay, the lounge was busy each afternoon with Christmas shoppers resting their tired feet, while warming up with a nice cup of hot tea and recharging their energy with a delicious looking array of tiny sandwiches, cakes and scones.


We had one complaint about our stay at this hotel.
At 10:00 on our second night we were in bed trying to sleep when a band, a very loud band, started to play. It sounded like they were in the outer room of our suite. I called the front desk to inquire about the situation and was told that it was a charity event and that the band would continue to 1:00AM. I asked to be moved to a different room and was told that there were no rooms available.
To say the least we were not happy with the circumstances but we resigned ourselves to sit it out. What else could we do? I know that you're thinking that we should have asked for ear plugs but we travel with ear plugs and they didn't help at all. I really feel that management had the obligation to inform customers that would be impacted by this situation prior to checking in.

Even with this problem, after considering all aspects of the Grand Central Hotel, it would be on my short list if I ever travel to Glasgow again!