Guest Post by Heidi Fuller >
Small Business Owner, Entrepreneur, Part-time Legal Eagle and huge fan of Belize!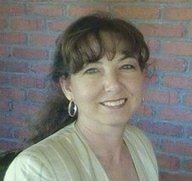 Recently my family took a two-week vacation to Belize. Some of our friends have retired to Belize and we were looking forward to visiting with them and getting some much needed fun and sun. We planned a few days at an Ambergris Caye resort before going back to the mainland to rent a car and explore the rest of the country.
Belize is a small Central American country located just south of Mexico's Yucatan peninsula and east of Guatemala. It was a British colony called British Honduras until 1981 when it became an independent nation. It is about the size of Rhode Island and has a population of just over 300,000. Belize is filled with amazing places to explore. It has the second largest barrier reef in the world, Mayan ruins, jungles and tons of wild life like Jaguars, Howler Monkeys, Toucans. Its national animal is the elusive Tapir.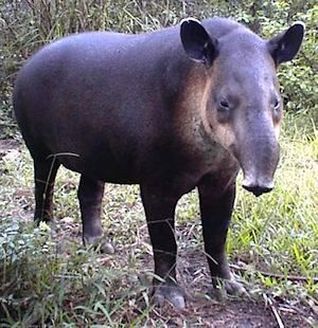 Emerging from the airport terminal, we were immediately enveloped by competing taxi drivers eager for our fare. Showing mere interest in needing a taxi was enough to trigger a whisking of our bags into the trunk of a cab and off we went. Decisions are easy in Belize if you let them be. Belize is an English speaking country but you might question that assertion until you get used to the local dialect: it is probably teetering on the edge of being declared a unique language. It was a good ten minutes before we could actually confirm that the driver was, indeed, careening in the general direction of the boat dock instead of a dark alley to be thrown onto a pile of unsuspecting tourists.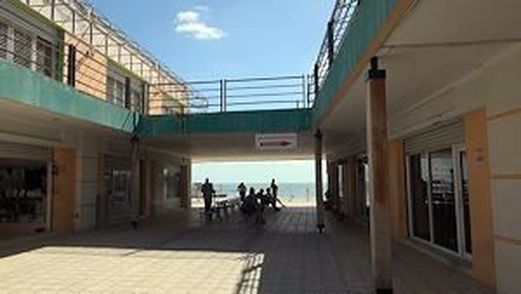 At the ferry dock, the pace finally slowed to the famous Caribbean pace. The boat scheduled to take us out to Ambergris Caye was thus far only 10 minutes behind schedule; so we had plenty of time to look around. We declined the many offers of roadside hair-braiding, manicures and pedicures, but did get some truly excellent fresh fruit to eat; no GMOs in Belize!

The boat ride out to Ambergris Caye takes about an hour and is really a fun way to mark the official "start" of the vacation. It is absolutely beautiful. Ambergris Caye is the largest island off the coast of Belize. The island is named after the very rare, very expensive, fragrant ingredient first used in the perfumes of Marie Antoinette: fossilized whale poop.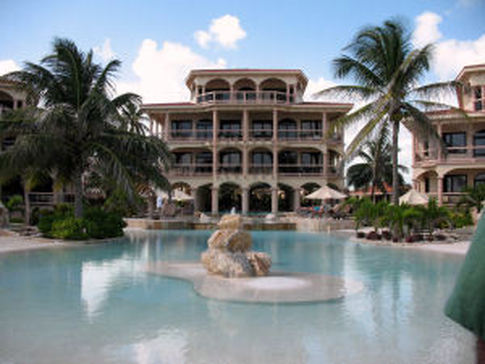 The boat passes many tiny islands most of which are uninhabited and a few with only enough room for a single house and a dock. My husband gazed wistfully at these little island hideaways and I'm pretty sure I wasn't included in his daydreams; just Skeeter, his dog.
We arrived at the dock of our hotel, the beautiful
Belizean Shores Resort
, and were given a happy fruity drink welcome. I would highly recommend Belizean Shores. The people are incredibly friendly and eager to ensure that you have a great time. The property is beautiful and geared towards families.
The resort is exclusively 2 and 3 bedroom condos. The condos are nicely appointed and comfortable. All of them have a balcony or patio, comfortable furniture and a big flat screen T.V.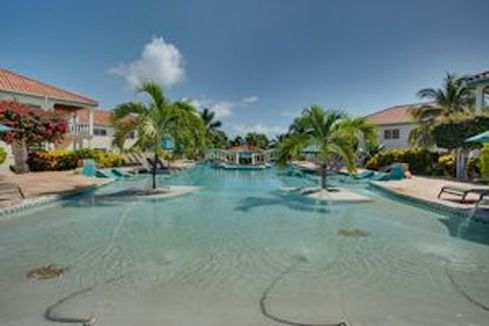 The resort has an onsite restaurant and bar which is a necessity on Ambergris Caye since the town is quite far away. The food is delicious and they will deliver to your condo or the pool area.
The pool is definitely the main attraction at the resort. My favorite aspects were the ledges where "in the water" lounge chairs rested and the swim up pool bar provided frosty cold fruit drinks. It also had a "beach end" for little kids but there were none at the resort during our stay so the pool area was quiet and relaxing.
There is also the option of using the pool and restaurants at the sister resort, the more upscale
Coco Beach Resort
next door which is another beautiful property. On the tennis/basketball courts, I got my ten minutes of tennis in which I indulge every 20 years or so. This is definitely the perfect place to take a family vacation and it is very reasonably priced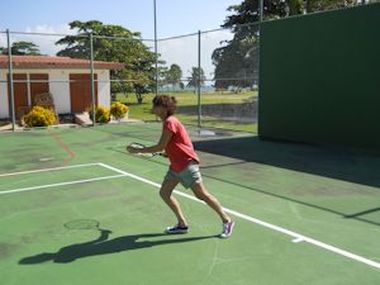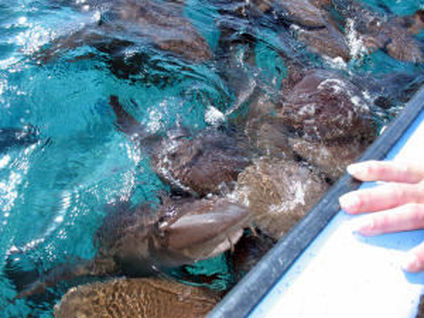 Once you have spent a day or two lounging by the pool resting and regenerating, Ambergris Caye has many other
wonderful attractions
. For the active and ambitious, there is kayaking, scuba diving, and parasailing. Since I am neither active nor ambitious, I personally did none of these things but other people seemed to enjoy them. I did go along for the ride while my husband and daughter snorkeled on the barrier reef. I can report that they said it was amazing and was like swimming in an aquarium. Very cool!
I did participate in the "swim with the sharks" adventure. O.K., they were fairly tame sharks; rather more like giant cat fish, but they still count as sharks nonetheless!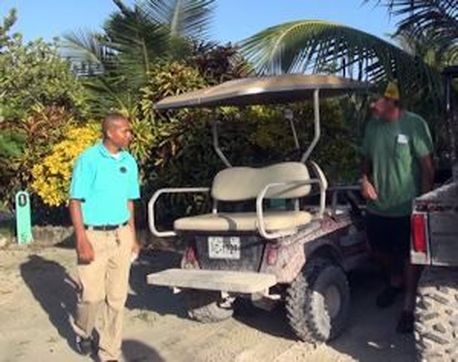 The island discourages cars so the general mode of transportation on the island is the golf carts which are available for rent at the resort. We rented one for an evening and headed off to the main town of San Pedro which is about an hour away by golf cart. There is only one road on the island so it is impossible to get lost. This one road is 90% dirt and full of pot holes so speeding is not an option.


San Pedro is a nice little town distinguished by its rather large population of dogs. They seem to love to bark. A lot! Probably the best souvenir shop we came across in the whole two weeks was in a San Pedro bar at the beach next to the main pier. It was exactly the sort of expat type of hangout you would expect to find in the Caribbean, very much beach casual, made from whitewashed timber construction, with high ceilings. This lofty space allowed for any circulating breezes to cool the huge room.

We had a great family vacation on Ambergris Caye and we look forward to getting back there for some more fun in the sun and those yummy fruity drinks!