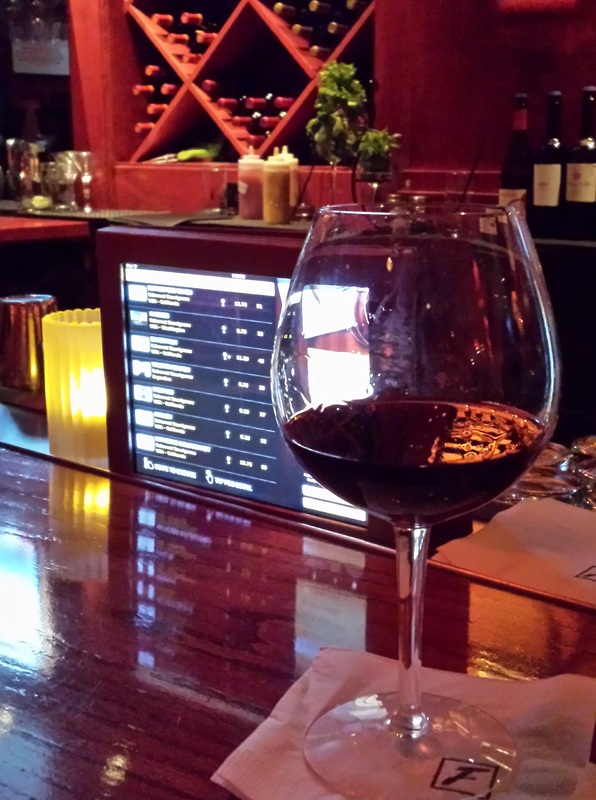 Flemming's Steakhouse is one of our favorite destinations when we make the 1 1/2 hour drive to Knoxville, Tennessee, for an overnight shopping/pub-hopping/dining experience. We do this only a few times a year since it usually means a pretty large hit to our wallets!
Flemming's has amazingly delicious, award winning food but it is a little on the expensive side, so our favorite position is sitting at the lovely dark wood, romantically lit bar, where we order a selection of appetizers. I have to say, my favorites are the plump fresh shrimp cocktail with its fabulous sauce, the amazing steak salad covered with juicy, perfectly grilled steak slices and my favorite, the most savory french onion soup I have ever eaten in my whole life. The depth of flavor is perfect. These are just a few of their wonderful offerings, but this wasn't the focus of our evening that night.
This time, I wanted to try some of their impressively large selection of wines. And the best part was the ipad style tablet located conveniently on the counter where I could browse through their sections and recommendations, try a few and send myself the online review of the varietal. How cool is that!
We ordered three different glasses of red to try, from the Flemming Top 100 list which offers really great highly rated wines by the glass, and after sharing each of them,
(well Jim tasted, I actually drank most of the wine)
we both decided that the Silver Palm, 2011/12 was our favorite.
The tasting notes from Flemming's tablet are:SILVER PALM
North Coast, 2011/12
""The beauty is in the details." That's the mantra at Silver Palm, and it's evident from the moment you sip this wine. After harvesting from the finest wine valleys in Napa, Sonoma and Mendocino, Silver Palm winemakers craft a sumptuous wine that enhances food beautifully. Dark ruby in color, this Cab exudes aromas of cassis and Bing cherries. In the mouth you'll experience flavors of spice and oak, with firm tannins that lead to a silky finish."

I have to agree with this!My second favorite was actually a higher rated wine. (This one tied for first with Jim!)
OBERON
Napa Valley, 2009/10
"Winemaker Tony Coltrin has married multiple Cabernet expressions into one outstanding wine that boasts a gorgeous, rounded mouthfeel and rich, complex flavors. How you ask? By layering fruits from Napa's volcanic hillside soils with the deeper alluvial soils of the valley floors, producing an oak and Bordeaux-styled Cab. The wine's candied blackberry, licorice and spice flavors complement a lingering toffee note on the finish. On the palate, a dash of black pepper and hints of cranberry that will rock your taste buds. This is one Cab that will keep you coming back for more."

So overall, I have to say, the tablets where we could access all these interesting wine notes was an absolute hit with us and made our evening at
Flemming's Steakhouse
even more fun than usual!