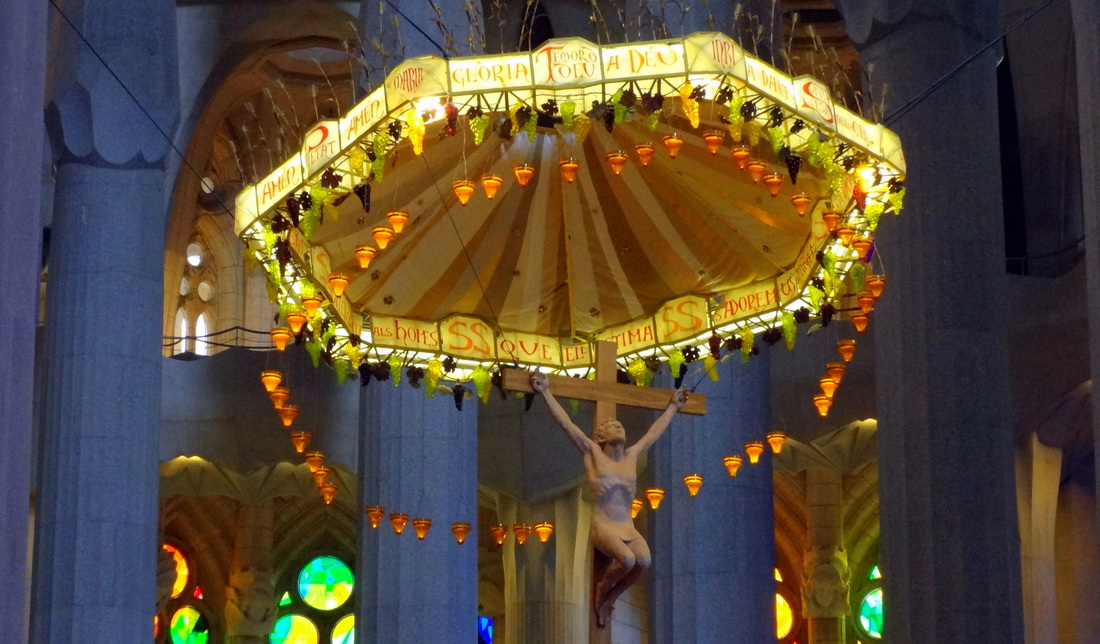 Arrival in Barcelona
and One Day More
Yes even people like me who don't particularly like cruising and really have a better time exploring on their own can have a great time on a cruise. I was really skeptical that this could be the case when we agreed to accompany four friends on what everyone hoped would be a two week party at sea with lots of interesting excursions dotted in between so we booked a cruise on Holland America's ship, the
Nieuw Amsterdam
to sail the Mediterranean .
When we arrived in Barcelona, feeling grimy and tired, I was encouraged to find that our hotel was an oasis of cool and calm in the heart of the Gothic Quarter and just off the bustling La Rambla.
Hotel 1898
was decorated with deep mahogany wood, soft leather club chairs which complemented the black and white striped couches framed in wicker which felt inspired by the nearby beaches. Our rooms were clean and refreshing and best of all there was a sparkling blue pool on the rooftop with a panoramic view of Barcelona.
Our friends opted to swim and relax with drinks from the rooftop bar, but Jim and I were compelled as always to head straight out into the bustle of the street. After a lunch of savory Paella and cold beer we were fortified to walk La Rambla checking out stalls filled with striking original art, jewelry and of course lots of tourist junk.

When we ducked into some of the courtyards off the main drag, we found several palm shaded plazas centered by splashing fountains and ringed with bars and restaurants with patios framed by old stone arches. As usual, Jim who has the nose of a bloodhound when it comes to Irish bars, honed in on My Bar, which exuded an atmosphere of old Ireland in this land of sun and sea.



Our wandering finally led us to Barcelona Cathedral and the Cloisters attached. This magnificent cathedral with its lacy gothic exterior spires and a quiet expansive interior had soaring vaulted ceilings which reflected a golden hue in the softly lit nave. It is the burial place of the martyr and city patron, St. Eulalie (martyred by the Romans for her beliefs in the 4th century) and was begun in 1298 on the foundations of a Roman temple and Moorish mosque. The gold encrusted sarcophagus lies in a grey arched crypt which is located down a wide set of stairs and barred by an ornate iron gate. As we continued exploring, we actually entered the cloisters through a side door which led us directly into a peaceful courtyard filled with tropical plants, fountains and several graceful white geese surrounded by rows of pointed gothic arches.


The quiet and serene visit to the cloisters made us aware that we were pushing our energy limits and late that afternoon, exhausted, we opted for an early night so that we could turn our body-clocks around and be fresh for the next day. Our younger and more resilient friends spent a night on the town eating tapas and exploring the sultry evening delights of Barcelona.

The next morning we checked out of our oasis and headed by taxi to the ship that would be our home for the next 10 days. The Nieuw Amsterdam was Holland America's newest ship having taken her maiden voyage only one year earlier. Our cabins were truly deluxe, having gotten a great deal. Jim had done his homework on the internet and found we could upgrade for only a few hundred dollars more to a corner suite with a wrap around balcony, loaded with perks like the use of a private lounge, expedited embarkation and free laundry/dry cleaning. It is always worth checking on deals even after booking cruise tickets because you might find that a better deal exists later on and you might be able to upgrade. Our room was spacious with a large bathroom with double sinks and a tub and a small lounge area and best of all a super-comfy king size bed.

Even though we loved our cabin, we headed back out to take in more of Barcelona. There are so many options for visitors depending upon your travel tastes. A couple of our friends took off for a power walk and cigar and art buying expedition while Jim and I, true to our instincts, turned toward the Gothic quarter again for a visit to the subterranean Roman Ruins and the Museu d'Historia de la Ciutat . The Royal Palace from the 13th century has a small chapel, Capella de Santa Agata. It was only after reading a small plaque at the entrance of the palace chapel that we realized we were standing on the same floor where Columbus kneeled before the King and Queen of Spain to announce finding the New World. It was an amazing thought to be sharing the same space as those from history.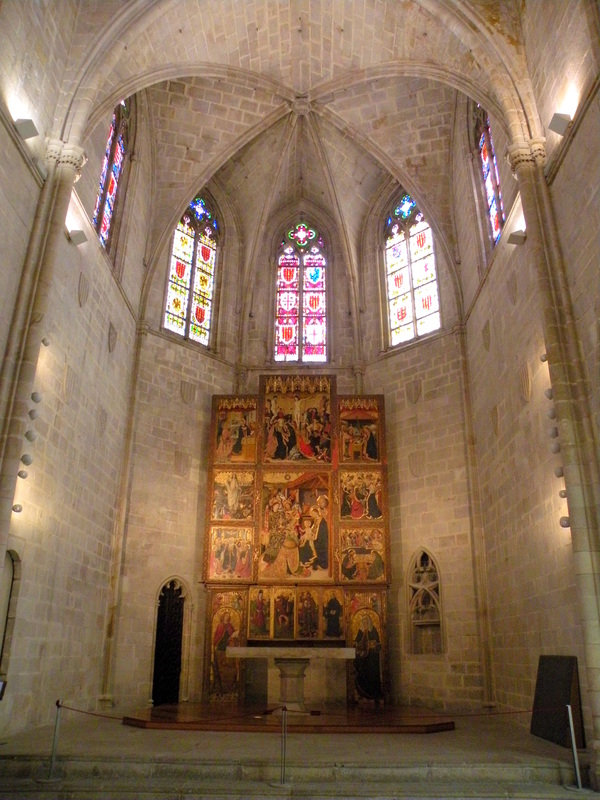 The Roman Ruins provided a look into the ancient life of the area. Entire streets , squares and the old forum can be seen, with rooms for wine making, laundries, dye works, even the ancient broken pots for storing Garum, There were beautifully designed mosaics and what is left of ornate temple pillars. All of this is far below street level today. On top of this sits a palace from where dukes and kings ruled their domain. After an afternoon filled with history we returned to the sleek modern ship for the captains cocktail party, dinner and a night of dancing at the disco.

The next morning, we tried to catch a taxi into town, but at the long port, lined with other cruise ships, the taxis were scurrying back and forth carrying embarking and disembarking passengers, so we caught the shuttle provided by the cruise line into Barcelona and then found a taxi at the nearby taxi stand to take us to Antonio Gaudi's Modernist masterpiece, the Cathedral of La Sagrada Familia. It was begun in 1882 and the construction was taken over by Gaudi in 1883. It remains unfinished and under construction since his death in 1926. When we arrived there were already crowds waiting in line as this is one of the premier sites to see in Barcelona, but it is worth the wait to get inside. The soaring vaulted nave was supported by Modernista pillars shooting up like plant stalks and spreading into spiky flower forms at their tops. The light was broken up by jewel tones sparkling from the windows and above the altar floats a brilliant canopy holding the Christ figure suspended in a moment of space and time.
Eager to see more of Gaudi's Modernista architecture, we walked through the peaceful tree shaded streets of the Quadrat d'Or (Golden Square) neighborhood to the Batllio House a private home built for Joseph Batllo i Casanovas and aptly nicknamed the "Dragon House" finished in 1906. It's roof tiles created a scaly curving backbone against the blue sky. The interior was a vertical maze of curved rooms, arched hallways, sloping walls and waving ceilings and was decorated with vibrant tiles, sleek amorphous wood trim and white-as-bone stucco. We wandered throughout the mansion while listening to an informative guided tour on our headphones.
My only disappointment was that we had to head back to the ship in the early afternoon since the ship was set to sail at four pm. I fell in love with Barcelona in two short days and was sad to leave knowing that we had barely touched the surface, but I was also eager to what was ahead at the next port and experience our first night at sea!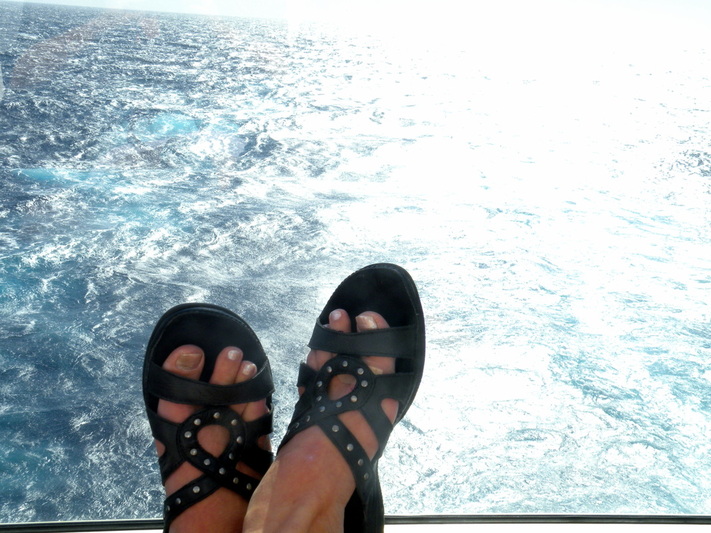 Enjoy our new HD Photo Montage!